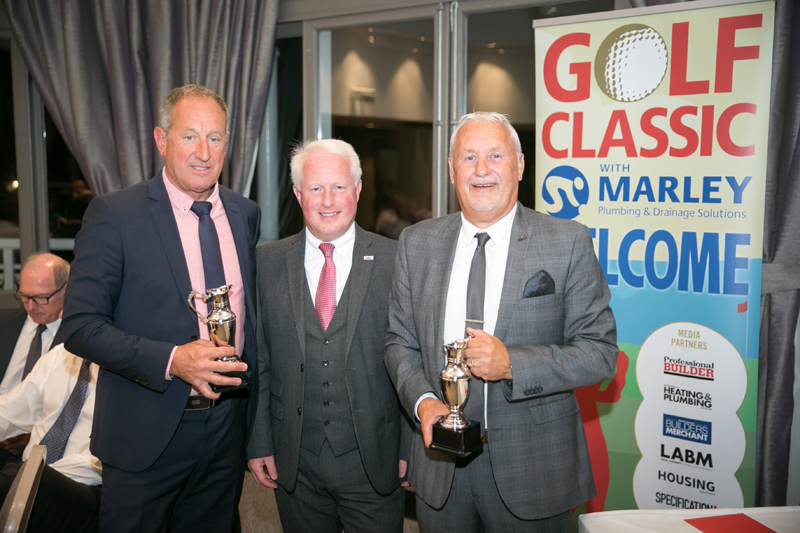 The prestigious venue for this year's Golf Classic Gala Dinner and Prize Giving could not have been more iconic for the finalists, sponsors and media partners who attended the event at the hallowed Ryder Room at The Belfry.
32 golfers played the PGA Course at the luxury golf resort with hope in their hearts and smiles all round. The finalists had won through five rounds of golf to be at the event. The Golf Classic is now in its 27th year and is the only national golfing tournament exclusively for those working within UK mainland construction.
The finalists not only represented golf played geographically across the country, they also demonstrated the breadth of professional services and trades, from architects and lighting design to plumbing, electrical engineers and specialist plastering.
Stan James, Marley Plumbing and Drainage Manging Director, presented winning finalist team Steve Hodgson and Colin Trestrail, and runner-up team, brothers Gary and David Fountain, with their trophies and prizes. David Fountain said of the day, "As far as my brother and I are concerned, we had already won by being here and taking part in such a wonderful day. We knew from the first hole that our opponents were going to be tough to beat and so it transpired. It was nip and tuck all around this wonderful course, with Steve and Colin winning through by a single point on the last."
If you'd like to take part in the 2020 running of the Golf Classic and find out why players return year after year, visit www.thegolfclassic.co.uk, email [email protected] or call 01892 752300 to join for £46 per two-ball team.