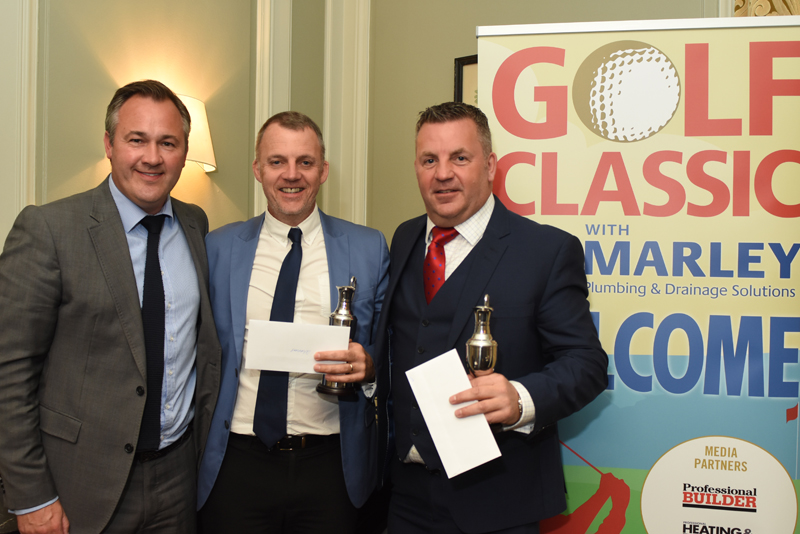 This year's Golf Classic Grand Final has been named one of the best ever as finalists and sponsors enjoyed great golf followed by a gala dinner, prize giving, and luxury stay.
Set in the grounds of Slaley Hall in the Northumbrian countryside, finalist David Datson said he was: "extremely impressed with the hotel and especially the golf course! A huge thank you to the team at the Golf Classic for their hard work over the weekend and during the year leading up to it."
Congratulations go to Justin Moore and Ian Gray both from Unitas, who won the competition with an impressive 41 points. James Malkin at Marley Plumbing & Drainage presented the winners with their trophies and £200 vouchers.
Beaten by just four points, runners-up Cormac Wright, Head of Social Housing at Glenn Dimplex, and Scott Ferguson, Director at Ferguson Electricals, also received trophies and vouchers presented by Marley Plumbing & Drainage.
Marley Plumbing & Drainage said it was proud to continue its long association as sponsors of the Golf Classic. The national tournament is also supported by a wide cross-section of specialist construction press which includes TSP Media, Hamerville and Mixed Media.
The sponsors took part in their own competition which was said to be keenly fought. First prize was awarded to David Stiles' TSP Media team with 72 points and the runners-up were Marley Plumbing and Drainage with 63 points, headed up by John Clark.
Cliff Evans of MAB Contracts also won Nearest the Pin and Anthony Green from Premier Painting achieved the Longest Drive.
The Golf Classic is said to be regarded as a must-attend event for those working in the construction industry and continues to attract golfers of all abilities from every corner of the country. In this year's Grand Final, plumbing and heating engineers, builders, architects, and electrical contractors, amongst other trades and professions, were represented.
The planning for next year's action-packed tournament is already underway and will be open to those employed within the UK Mainland construction industry. Each year participants take part to enjoy playing golf, meet new people and forge beneficial business associations.
To be in with a chance of attending the 2019 Grand Final go to Facebook, Twitter, www.thegolfclassic.co.uk or call 01892 752300 and you can be enrolled for £44 per two player team.