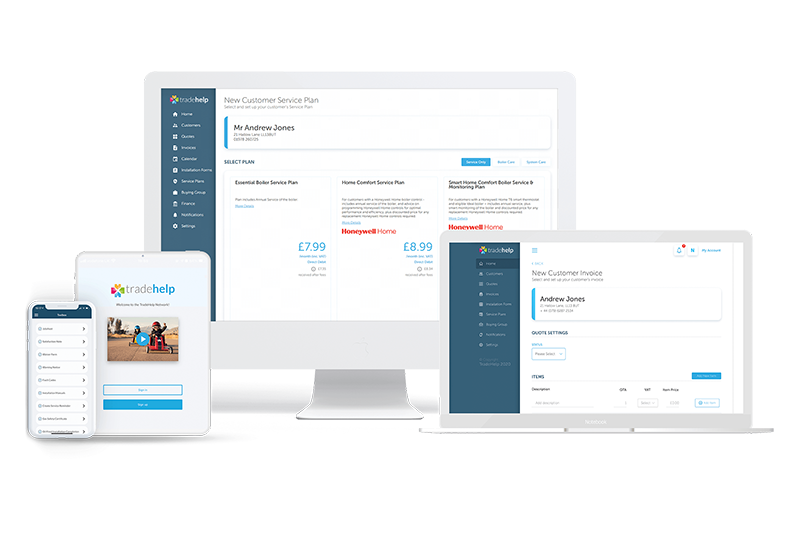 Resideo has announced that it is collaborating with TradeHelp on the latter's new heating service plan range.
TradeHelp is offering professional installers nine service plans, extending from straight-forward boiler servicing to full boiler monitoring with priority call outs. Installers set their own pricing and can view their customers' online subscriptions and monthly payments through easy-to-use software.
There are two elements to Resideo's part in the new offering: each service plan comes with the option to include a Honeywell Home thermostat from Resideo – this includes discounted prices on replacements; and the full boiler monitoring option (Smart Home Comfort Plan) on the Honeywell Home T6 Smart Thermostat is powered by Resideo's remote appliance monitoring software (RAM).
The Honeywell Home T6 from Resideo provides a straight-forward solution to remotely control the time and temperature control of a home heating system. It is smart home ready and includes location-based temperature control (geofencing) – meaning homeowners can be more energy efficient and avoid heating an empty property.
Remote Appliance Monitoring (RAM) is a cloud based SaaS that enables installers to monitor and diagnose the heating system – zone by zone – with embedded alert notifications for boilers, thermostats and analytics events such as preventative low water pressure.
Martin Wilson, Resideo's UK and Ireland Sales Director, said: "We are pleased to collaborate with TradeHelp on the launch of their new service plans by providing some of our smart thermostat products and remote appliance monitoring technology. We are confident that this technology will assist professional installers and their customers, and we look forward to hearing their feedback."
"We are always looking for new ways to support heating engineers in today's competitive market," added TradeHelp's Managing Director, Martin Jones. "Service plans are not an easy thing to deliver for a smaller company, until now that is! It's a huge opportunity for heating engineers to take their businesses forward, with the security of a consistent income stream."
Installers can find out more information on TradeHelp's launch by registering at office.tradehelp.co.uk, downloading the free app, or visiting www.tradehelp.co.uk