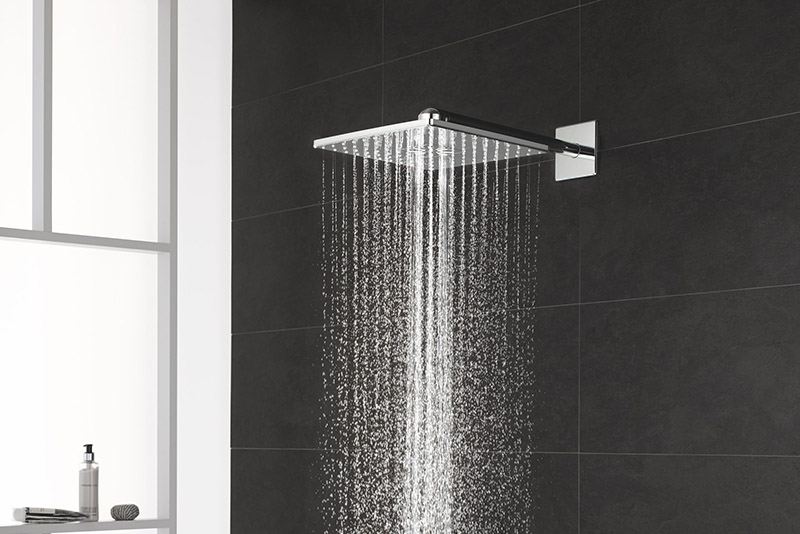 64% of Brits prefer showering to bathing, according to a recent study by Explorare, commissioned by GROHE.
As many as 43% are now viewing the bathroom as an indulgent space for wellness and relaxation with 48% using the shower to help them relax.
Alongside flexibility in design and functionality, the survey results revealed that safety and sustainability are two key factors consumers take into consideration when it comes to showering. 78% said that having a shower surface that doesn't get hot whilst they're showering was a priority and similarly, 61% deemed a thermostat that can balance out fluctuations in temperature an important factor in their shower's performance. Meanwhile, around half are actively trying to save water – with 54% seeking additional sustainable functions from their shower to help them live more eco-consciously in their day-to-day lives.
The combined results of the study provide in-depth insights into consumer behaviour around showering and help bring to light some key customer profiles:
The Hygiene Pragmatist – who showers after exercise like 55% of those surveyed, does not spend much time in the bathroom and favours a practical shower system that keeps water consumption to a minimum.
The Wellness Lover – who is looking for intelligent shower systems with lots of innovative features for a truly luxurious water experience.
The Freshness Enthusiast – who prefers a shower system with comfortable user-centric features and high design standards.
The bathroom is no longer a purely functional room used exclusively for personal hygiene. Expectations have risen considerably which has been accompanied by the increasing complexity of bathroom design and furnishing. Installers can really build an understanding of their customer's needs by  exploring individual customer behaviour and combining this with their product and industry knowledge to make informed, relevant recommendations.
With the new study results highlighting that 36% would like to replace their entire shower systems and 54% desiring a large rainfall shower head that provides full shoulder-to-shoulder coverage, GROHE is delighted to announce the return of its showers cashback promotion.
Customers can claim up to £100 cashback when they purchase one of the many showers included in the promotion, ranging from the SmartControl range to the Grohtherm systems. GROHE SmartControl uses push-and-turn technology that allows operation of up to three different water outlets with multiple spray patterns.
The promotion runs from 1st August to 31st October 2020, with all cashback claims to be made by 30th November 2020.
To find out more about the offer and read the full terms and conditions, visit www.grohe.co.uk