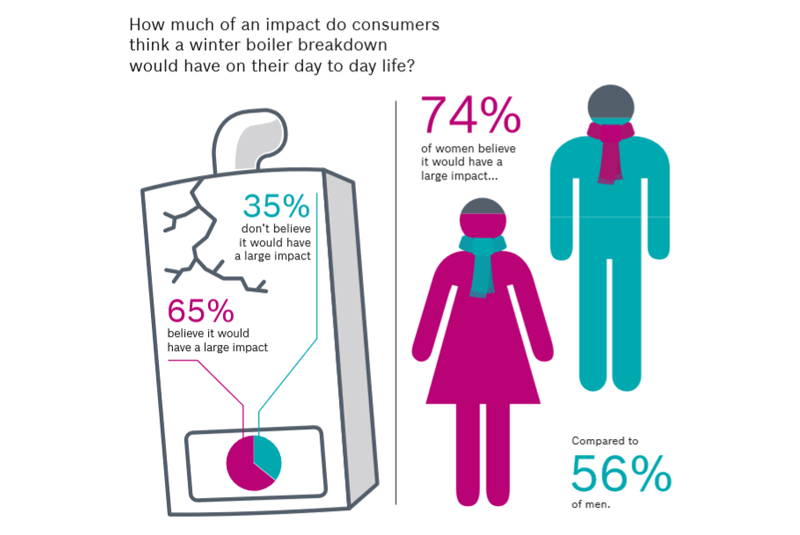 Worcester Bosch has released findings from its recent 'boiler in a day' research demonstrating the huge role boilers play in the nation's lives. The survey found that over one third (35%) of Brits aren't aware that a winter boiler breakdown would have a large impact on their day-to-day life and are therefore downplaying the importance of heating and hot water.
With 85% planning to keep their homes heated at over 18°C this winter, Worcester Bosch wants to make sure that no households go cold due to a lack of maintenance over the colder months as the nation begins its annual boiler switch-on.
Worcester Bosch's research found that when it comes to choosing an installer, reliability was the most important factor for customers (32%), followed by professionalism (21%) and price (20%).
The survey also found that 75% of Brits typically take a warm shower or bath at least once a day, and 67% rely on the hot water to wash up their dirty dishes daily. This highlights the importance of a reliable boiler as well as an annual service to ensure it is running smoothly.
Martyn Bridges, Director of Technical Communication and Product Management at Worcester Bosch, said: "Every year, we see more boiler breakdowns in the latter half of the year, causing a significantly longer waiting list to fix a boiler in the winter months. Installers need to use their quality and expertise to fit reliable boilers and tell their customers to get regular checks to help prevent this from happening."