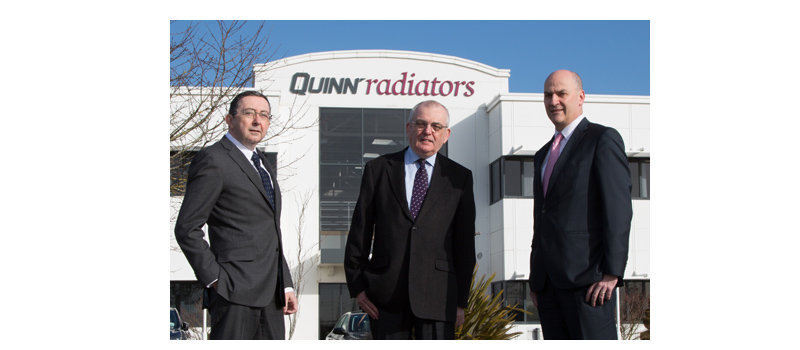 Following Quinn Radiators' recent acquisition, its new management team is re-launching the business, unveiling a fresh vision for the future and seeking to reaffirm the company's leading position in the heating sector.
With long-standing experience in the industry, the new leadership team has set out an ambitious growth strategy for the company – one that will increase market share for its leading panel and design radiators as well as its bespoke commercial heating and cooling solutions. It will focus heavily on delivering unrivalled product quality and customer service, while building brand value and enhancing the company's already long-established reputation.
"This is an exciting time for Quinn Radiators, and we look forward to re-establishing the company's rightful position at the forefront of what is a competitive market place," says CEO David Kerr. "The new management team has been in the industry for a long time, so we're harnessing this experience and implementing a strong strategy that will secure a very bright future for Quinn Radiators.
"Our mission is to make Quinn the better choice, offering the very best performing products on the market, with the highest levels of efficiency. Our manufacturing facility in Newport is the most modern in Europe and our expert team is second-to-none. This allows us to focus on continued technical excellence and innovation, so customers benefit from superior quality products. We're also the better choice because sustainability is at the heart of our production process and we support the British economy by using locally sourced materials."
Quinn Radiators use less water and less energy than competitor products, while emitting up to 25% more heat than alternative radiators of the same size. This makes them the most efficient radiators on the market with the highest outputs and the best price per BTU (British Thermal Unit). "Ultimately, when you buy a radiator you are buying heat output. By opting for a smaller, more efficient radiator that matches the output of larger models, you can benefit from lower upfront and running costs," continues David Kerr. "As the better choice, Quinn Radiators offer just that, allowing customers to get more heat for their money."
Quinn's broad range of panel and design radiators suit any style or space and all products are BIM (Building Information Modelling) ready – making them easy to specify to meet a project's exact requirements. They are backed by reliable technical support and also come with a 10-year guarantee for full peace of mind.