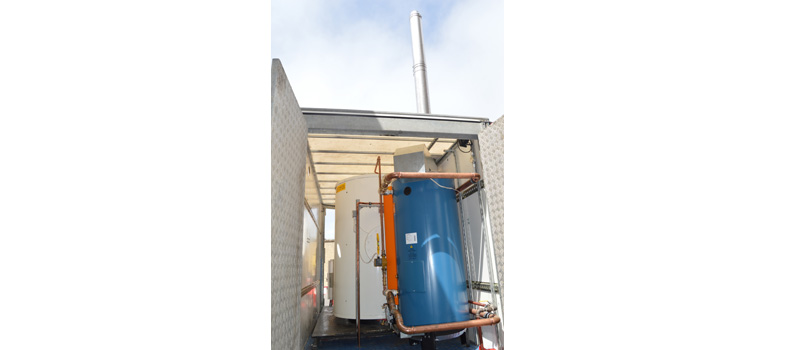 A long term relationship between Hamworthy Heating and Cedar Green Projects has seen the introduction of five temporary boiler houses that can be towed directly to site and provide mobile heating and hot water.
The self-contained trailers are managed by Cedar Green Projects, a commercial heating and building services company in West Sussex, and use equipment from Hamworthy Heating, a commercial boiler manufacturer in Poole, to take heat or hot water to site when needed.
Danny Bulch, Director at Cedar Green Projects, commented "We first had a need for a temporary boiler house when we were refurbishing a hospital plant room last year. Due to the project taking place in November, they couldn't be without heating through the switchover. From this, we saw a niche in the market for this type of product so decided to build a fleet of temporary boiler houses."
There are currently five trailers available with two more being built. Four of the trailers are used for providing heating and each features a Purewell VariHeat cast iron condensing boiler, Chesil pressurisation unit and Burstock expansion vessel from Hamworthy Heating. The fifth trailer provides hot water using a Hamworthy Dorchester DR-LA water heater that can run on gas, LPG or electrical immersion, depending on what is available, alongside a storage tank and expansion vessel.
Danny went on to say, "We chose Hamworthy equipment as we know their products are reliable and long lasting – we use them on all our commercial installations. The Purewell VariHeat boiler was perfect for this as the majority of time it will be installed on old, dirty systems and the large waterways in this cast iron boiler make it particularly robust and able to deal with debris running through the heat exchanger from older heating circuits."
The temporary boiler houses are being used for refurbishment projects to maintain a continuous supply of heating or hot water whilst systems are maintained or replaced. They are also available for emergency cover or disaster management in the event of product failure and at temporary events.