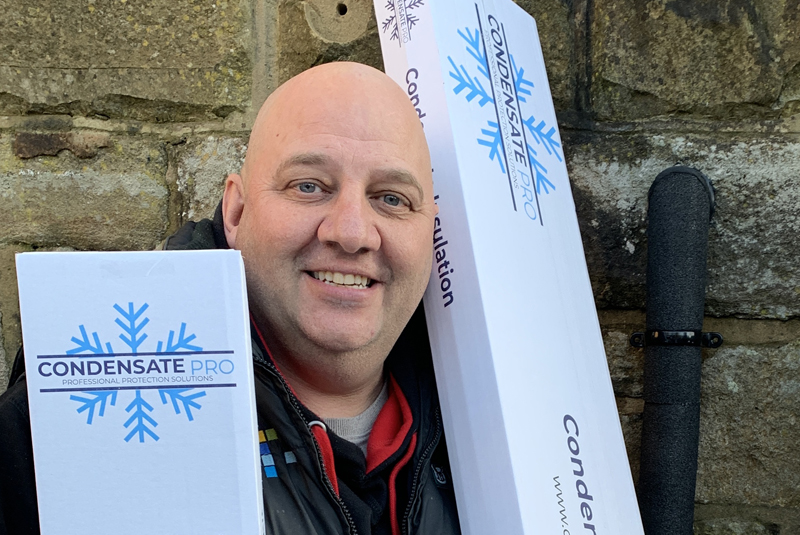 Condensate Pro, the easy to install kit solution to protect condensate pipes, is proving to be a hit with installers. Its inventor, plumbing and heating installer Dave Smith, is taking his invention on the road in 2020.
"Since we launched the product late last year, the reaction from installers has been fantastic, with loads of positive feedback," explains Dave. "It has been really special to see pictures of installations using Condensate Pro across social media, as well as coverage in the leading trade magazines too. Now we want to reach professionals face to face, so we will be exhibiting at several tradeshows in 2020."
Condensate Pro fits any condensate pipe installation, with specially designed UV/water resistant lagging and bond and seal adhesive. All products fit onto 32 or 21.5mm overflow pipes and the connection and terminations are pre-insulated to make life easier when fitting. The products offer a complete solution for every external termination – gully waste, soakaways, rainwater and soil pipes – making it easy to price the cost of installation.
Condensate Pro at PlumbExpo 2020
Condensate Pro will be exhibiting at PlumbExpo at Alexandra Palace on January 29th and 30th, and will be giving away five full kits on each day of the show. Watch the video below (featuring installer Andy "I LOVE PLUMBING" Cam and first posted on Twitter) to find out more…