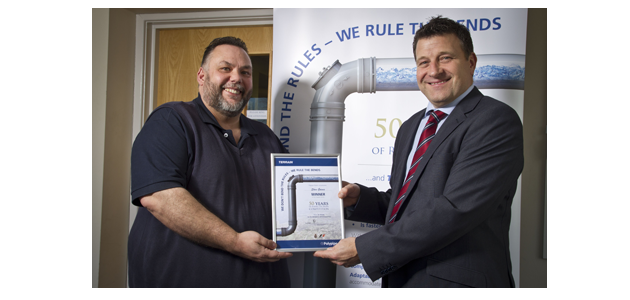 Polypipe Terrain has announced a bonus pair of Monaco 2015 Grand Prix tickets, in response to huge interest in the company's 'Rule the Bends' competition.
Celebrating 50 years since Terrain made history as the first in the UK to manufacture PVC drainage pipes, fittings and plastic piping systems, the quarterly prize draw offers members of the construction industry the chance to join the UK's leading plastic piping manufacturer on the bends of the famous Monte Carlo circuit at this year's Grand Prix.
The competition was initially created to run throughout 2014, but demand was so high that Polypipe elected to extend its 50 year celebrations by offering one last chance to win.
Tania Peck, UK Sales Director at Polypipe Terrain, added: "Our 'Rule the Bends' competition was a huge success last year and we're pleased to be able to give away an extra pair of tickets to what promises to be a fantastic event! The competition has given us the opportunity to say thank you to all those who have supported us over the last 50 years, and we encourage anyone interested in joining us in Monaco to enter.
"Through continually setting new standards and continually innovating our product offering, we've managed to successfully rule the bends in the industry for half a century – so here's to the next 50!"
Steve Gaines, Mechanical Buyer at LJJ Building Service Contractors, was recently drawn as the competition's fourth winner.
He said: "I was so shocked and didn't expect to win at all! I'm really delighted and can't wait to celebrate Polypipe's success in Monaco this summer. It's a wonderful surprise."
Those that have entered the competition previously will have their names automatically entered into this bonus draw. For your final chance to enter visit www.polypipe.com/monaco.