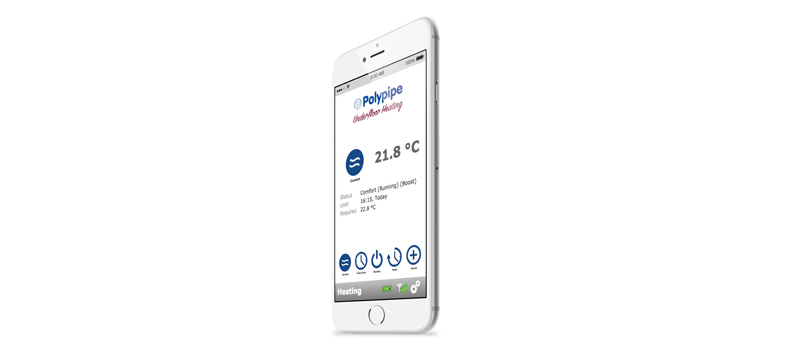 Polypipe is launching the UK's first smartphone app designed to remotely control its underfloor heating systems.
Taking the concept of a 'smart home' a step further, Polypipe customers will be able to control their heating from anywhere via an internet connected device.
The app allows users to regulate the temperature of each room with underfloor heating – ensuring a perfect  temperature can be reached in individual rooms without impacting on the rest of a property.
Controlling underfloor heating remotely via the app has a number of key benefits, including reducing energy costs and the ability to change the timings at a moment's notice.
Andy Coy, Product Manager at Polypipe, said: "Busy lifestyles mean our plans are constantly subject to change. A fully remote system to control heating means no waste and an accessible interface means it's easy to quickly change timings with no fuss.
"At the touch of a button, Polypipe customers can now regulate the temperature of the different rooms in their house to meet the day's requirements, allowing for a cosy, warm living room and a cooler kitchen during meal times, for example. With its easy user interface, we're sure that the app will be widely used and enjoyed by existing and new customers alike."
For more information on the app and Polypipe's wider underfloor heating range, please visit www.polypipeufh.com.