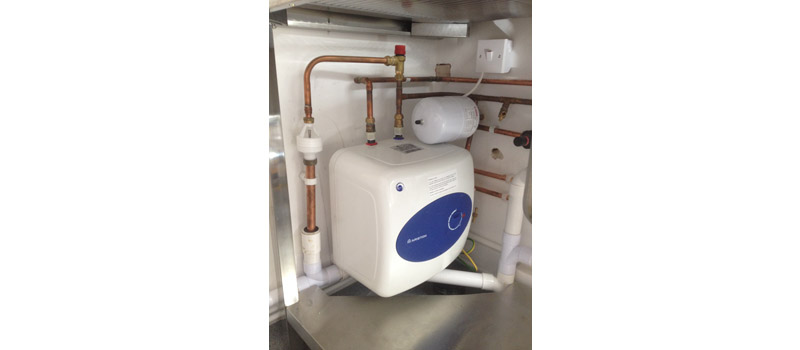 ADEY has pledged its support for a heating installer bringing a new plumbing product to market – The hotun.
As an installer who also identified a gap in the market to create MagnaClean, Chris Adey was able to see the hard work which had gone into the design and appreciated what's required to bring it to life as a prototype.
hotun is a tundish which allows plumbers to connect pressure relief valve discharges to a local waste or foul pipe and is the brainchild of installer Russell Armstrong from Derby.
The compact design fits into the tightest spaces and meets all water and building regulations. It also has an in-built non-return valve which eliminates odours from coming back from the foul drain. It handles trickles and full bore discharge up to 100˚c.
"I was on a job where I had an issue with a land-locked unvented hot water cylinder installation. I wanted to run the pressure relief valve discharge to the macerator, creating a visible means of discharge and stopping foul smells coming back up, but realised there was no single product available that enabled me to do the job simply and easily," explained Armstrong, Managing Director at RA Tech UK Ltd.
"ADEY is an industry pioneer and havs done all this before so to be able to tap into the company's knowledge and expertise for advice has been invaluable. I've already designed a prototype for a newer product which will have increased flow capacity of 20 litres per minute and upwards.
"I'm also in talks with a couple of major boiler and unvented hot water heater manufacturers who have indicated that they would be willing to support and recommend my product."
For more information about The hotun, go to www.hotun.co.uk