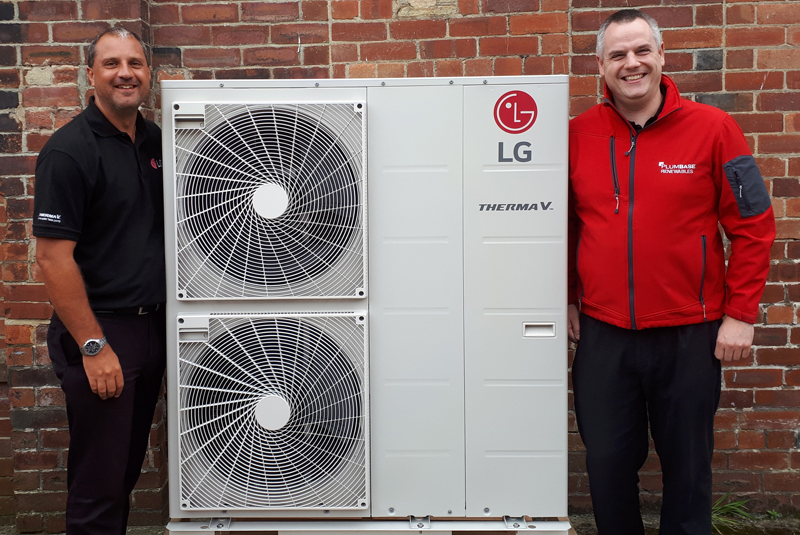 Plumbase, with more than 150 branches nationwide, has become the first major merchant group to stock LG's range of air to water heat pumps.
With immediate effect, the LG Therma V range of heat pumps – its R32 Monobloc, its Splits and High Temperature splits – will be available across the UK.
Following a Government announcement that gas boilers will not be allowed in new build developments post 2025, future heating options are up for discussion. It seems inevitable that there will be a move towards tried and tested renewable technology. Air source heat pumps have been installed in their thousands in mainland Europe, Scandinavia and Canada, will become increasingly popular here in the UK. They are simple to install and offer sustainable, simple to install and highly effective options for space and water heating in the home.
LG's Neil Hopkinson says it's high time that LG's range of Therma V heat pumps got a wider audience: "We've seen huge uptake of the Therma V via our distributors across the country and with the expansion of our training facilities – in Weybridge and Chesterfield – and with all courses booked up well in advance, it's clear that the levels of interest in installing air to water heat pumps is increasing month by month. As the pressure on fossil fuels increases, it's inevitable that we'll see increased take up of heat pumps in the years ahead. They represent an established and highly successful option for people in the UK climate. Now is the right time for air source heat pumps and Plumbase has taken a sensible step to ensure they will be at the forefront of air source heat pump distribution here in the UK."
Plumbase's Renewables Manager is Ian Smith: "We've been liaising with LG for a while now and my vision is to get their range of heat pumps on display in our showrooms and available to our customers. We have a very real 'boiler culture' in this country, but we are seeing far more people looking at renewable energy and renewable heating options for their homes. Installers clearly need to be able to offer this option to their customers. It's an exciting time for those who are keen on the technology and who understand the potential for growth in the heat pump marketplace. We believe that the LG Therma V range will soon become second nature to many installers who visit our branches."