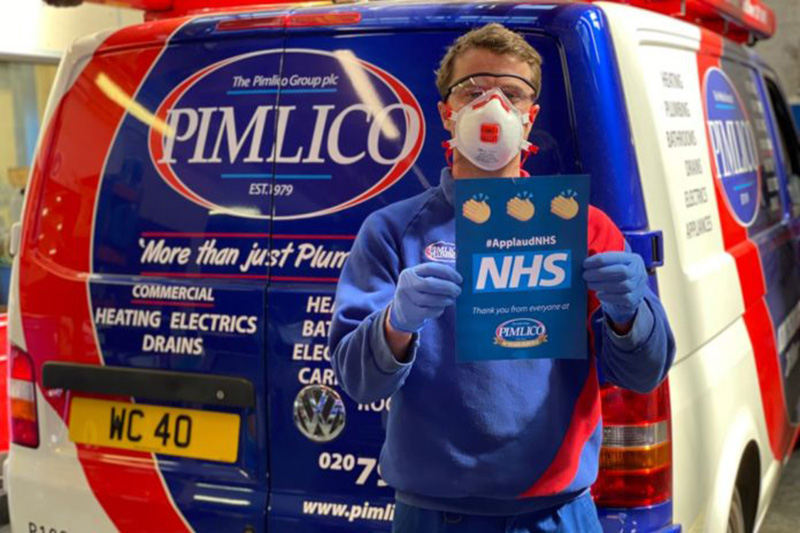 Pimlico Plumbers has pledged to continue its support of NHS workers in London by extending its offer of free labour on all emergency repairs until the end of September. The offer was first introduced in March when Pimlico Plumbers pledged to do all emergency work for NHS members for free – zero labour charge for the initial emergency work, then 20% off labour on any additional work. Non-emergency jobs also qualified for the 20% labour discount.
This offer has proven very popular with NHS workers and has seen Pimlico engineers clocking up more than £70,000 worth of free emergency work.
Founder and Chairman, Charlie Mullins, says: "I want to show my continued support for the NHS heroes who have worked tirelessly to keep the country as safe as possible throughout the pandemic. If we can take away some of the stress of dealing with a home emergency then it makes it worthwhile.
"Since we introduced the service in March, we have saved our NHS frontline workers over £70,000 on emergency repairs in the city alone. We want to reassure workers that the service will stay at least until the end of September as we keen to donate around £100,000 worth of work to our healthcare heroes.
"NHS workers have given so much to the country in the first half of 2020 and it's only right and proper that they be properly recognised for the great work and sacrifices they have made for their fellow citizens. There are lots of companies offering deals and I commend every one of them. And if a nurse gets home to their flat after a long shift and finds there's no hot water, it's Pimlico's pleasure to get there and get that nurse the hot bath or shower they deserve."