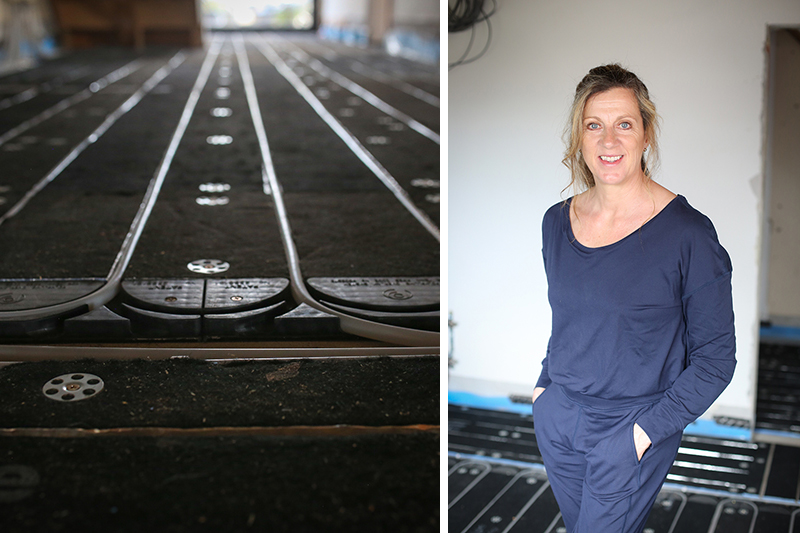 Polypipe Building Products was happy to help when GB track star Sally Gunnell was looking to renovate her property.
When the Olympic gold medal winner and her family wanted to install underfloor heating that would be efficient and unobtrusive, Polypipe's Overlay Plus system was the ideal solution.
After discussing the project requirements with heating engineer Ryan Faint (of FMS Contractors), the family chose Polypipe's Overlay Plus system as it provided the most efficient heat output with minimal disruption to their renovation project during installation.
Overlay Plus is installed directly over an existing solid or timber deck floor. The large and light in weight boards can cover large floor spaces very quickly and can be easily cut to shape with a blade – meaning they are quick and easy to install without need for specialist or heavy-duty tools.
Sally said: "We chose Polypipe because we wanted something that was reliable and longstanding as we plan to be in this house for the next 20 to 30 years."
The boards have a dense insulation core and an aluminium lining which increases the product's heat output and, at only 18mm thick, they add minimal height to the finished floor.
The family have paired their Overlay Plus system with Polypipe's Smart controls which include geolocation capability. This means they could choose to set their three teenagers' bedrooms to reach their preferred temperature in time for them to arrive home.
Sally added: "We wanted to have the space, this house had a lot of radiators in it and was freezing cold as well. Having underfloor heating will really change the whole outlook of the house, it's made it more modern than it ever was. We're very short of storage space so we didn't want to have the radiators, we wanted to have cupboards.
"We wanted to make it a contemporary house with lots of glass windows and good insulation so underfloor heating just made sense.'
Ryan Faint, who installed the underfloor heating in Sally's family home, said: "Polypipe Underfloor Heating is easy to use, well-designed and is a recognised, premium brand. We're fitting Polypipe systems on a large percentage of our projects, both new-build and refurb."
Sally Gunnell has competed at the highest levels of sprinting and hurdling and even broke a world record during her sporting career. She remains the only woman to hold the World, Olympic, European and Commonwealth Gold medals at the same time.
Following her retirement from professional athletics, Sally joined the BBC Sport team as a broadcast journalist reporting trackside and appearing regularly as a panellist on breakfast shows and conducting radio interviews.
Today, she also undertakes corporate work to help companies bring health and wellbeing into the workplace.