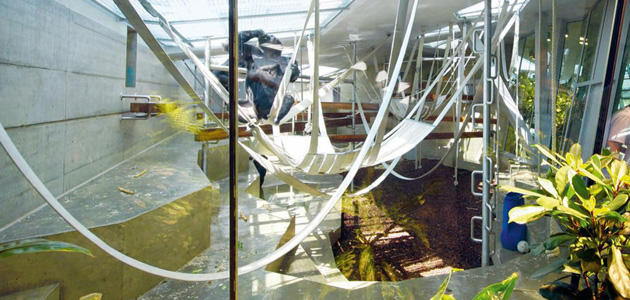 With hygienic drinking water being of paramount importance to the health and wellbeing of the residents of the Ape House in Wilhelma, Stuttgart, Geberit Mapress was the natural choice for the building's piping systems.
Spanning 10,000 square metres and built in accordance with the guidelines of the European Endangered Species Programme (EEP), the new Ape House in Wilhelma is one of the most modern of its kind in Europe, created to offer the bonobos and gorillas a suitable environment in which to play and satisfy their natural urge to be active.
The elongated, S-shaped new building is home to two separate enclosures for the gorillas and the bonobos. The indoor enclosures consist of a concrete structure formed in one piece. As an open green area, the outdoor enclosures form a natural continuation of the green roof scape, which fits harmoniously into the zoo environment.
With apes being highly intelligent and curious, building for them required special structural measures to be considered in terms of the design, choice of materials and layout. In addition to keeping the animals occupied, top priority is also given to ensuring their protection and safety, with careful consideration given to the drinking water supply in the enclosures. To ensure that the animals do not drink any dirty water which could result in illness, the drinking water supply has to be hygienically perfect.
By installing Geberit Mapress Stainless Steel, this requirement was met, as the system is made of high-quality stainless steel, is corrosion-resistant and extremely resistant to aggressive substances. During the production of Mapress pipes and fittings, Geberit ensures that they are in hygienically perfect condition when they leave the plant. The Geberit Mapress piping systems, which are suitable for drinking water pipes, are equipped with protection plugs to prevent the ingress of dirt and foreign bodies.
Other Geberit piping solutions were also called upon in the construction of the Ape House, in order to solve a number of key issues and ensure the apes have a safe habitat. A terraced landscape made up of concrete levels at different heights was created for the apes in the daytime enclosures where they can frolic and play. These steps are cleaned with water each day. To make the different levels possible, the drainage had to be practically assembled in the air during construction before the concrete was poured. The Geberit installation elements were best suited for this, with Geberit HDPE pipes chosen for the drainage system.
Finally, with visitor comfort being as imporant as that of the bonobos and gorillas, various Geberit sanitary solutions were chosen for the washroom facilities, including Geberit Duofix and touchless urinal flush controls. Not only do these help create a quality finish, but they also ensure the washrooms are hygienic and easy to clean too, leaving members of the public with a good impression of the Ape House when they visit.