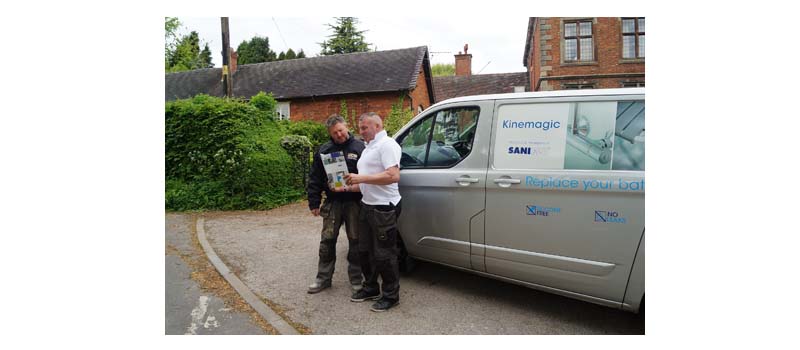 The very first outing of Saniflo's newly branded support vans has already generated business for the company within just a few days of their completion.
Jason Barnes, Northern area installation specialist for Saniflo, was at a house visit to assess a domestic macerator installation in Shelf in Calderdale when he was approached by a neighbour who'd spotted the logo on his boldly wrapped vehicle. The sign written van had prompted him to seek advice about a possible application in his own property.
Not one to miss an opportunity, Jason offered to undertake an immediate site visit to assess the customer's requirements and recommended a Sanitop, as the gentleman was converting a box room into an en-suite bathroom with no nearby access to drainage.
The unobtrusive Sanitop macerator allows connection of a WC and a washbasin discharging the waste through 22mm pipework.
The customer was very happy with the advice and bought the unit the next day from his local Builders Merchant, ready for connection by a local plumber. Jason was very pleased to be able to help.
"The customer had been thinking about how to discharge waste and water from the proposed conversion and had been researching macerators, when he saw my van parked outside. The visibility the new graphics give us is excellent; we've had loads of positive comments and I'm sure that we'll generate plenty more enquiries."