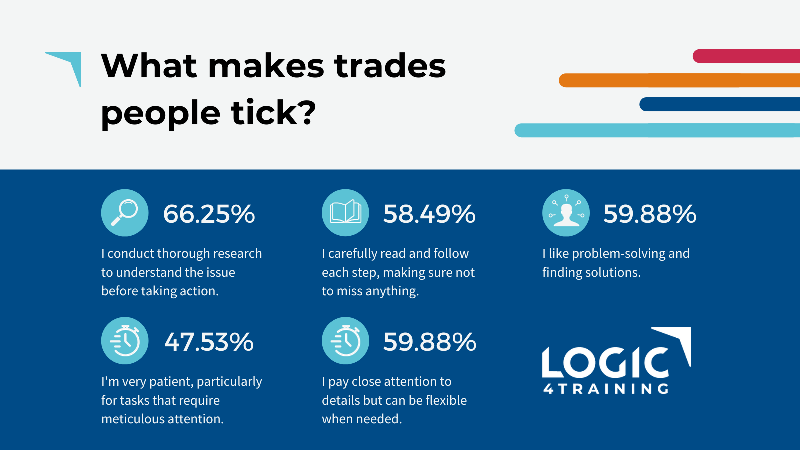 Building services training provider, Logic4training, has conducted a new survey to find out the attributes of its trainees and social media followers. Launched to help people decide whether an electrical or plumbing & heating route is best for them, the questionnaire highlights some of the essential qualities needed to make it as a successful trades' person. 
Nearly 60% of recipients cited 'problem-solving and finding solutions' as enjoyable, with a similar number not shying away from carefully reading instructions and manuals so they don't miss a thing. Over 66% said that when faced with a problem, they conducted thorough research before taking action. 
When it comes to patience levels, nearly 80% described themselves as 'pretty' or 'very' patient, with the majority not frustrated by meticulous tasks. Despite demonstrating their willingness to pay attention to detail (nearly 60% stated they paid close attention to detail, with over 26% describing themselves as 'perfectionists'), it seems that 'getting your hands dirty' is still considered very much part of the job description – over 87% of recipients said they didn't mind this at all. 
And, the trades are more engaged in the online world than ever, with less than 10% stating that digital was 'not for them'. 
Mark Krull, Director for Logic4training, said: "The survey paints an encouraging picture of existing trades people and those considering in a career in the sector. Successful building services engineers need to be interested by how things work and meticulous in nature. I'm pleased to see such high patience levels, suggesting our audience has got what it takes to keep customers happy and work alongside others. Keeping cool under pressure is a great quality to have. 
"Not shying away from the digital world is key for the modern installer too – to engage with clients through social media and also take advantage of the latest apps designed to make work easier. All of the attributes we covered in our survey are useful for whatever route an installer decides to take and, increasingly, there is cross-over. Heat pumps, for example, require plumbing, heating and electrical skills. 
"While there are of course differing skill-sets required for each trade, the ideal building services engineer of the future is multi-skilled and tech-savvy. With the growth of Low Temperature Hot Water Systems and heat pumps, the need to integrate different systems, controls, manufacturers and appliances means it is vital for our installers to understand how they can all work together to deliver the most efficient solution for the customer. The survey shows they are ready for the challenge."