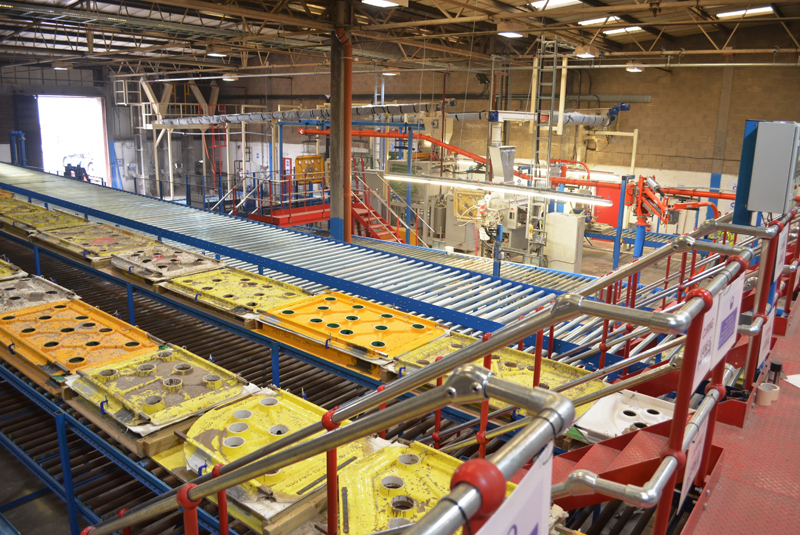 MX Group, based in Tewkesbury in Gloucestershire, has welcomed the arrival of its new shower tray production factory.
The new factory is capable of producing 200 shower trays an hour, 24 hours a day, seven days a week – an amazing 1.68 million shower trays a year at full capacity. It will be producing 12,000 shower trays a week during its first three months on stream before stepping up to 16,000 a week for the last three months of the company's financial year.
MX Group Chairman Bernard Robinson is understandably proud of his new £3 million investment: "This is the most advanced shower tray manufacturing plant in Europe and it ensures our position as the leading shower tray manufacturer in the UK. This highly impressive automated plant runs with a 42-man production team, with very limited manual intervention.
"We've responded to the demands of our major customers and made this investment in our manufacturing plant here in Tewkesbury and the result is the most advanced production line of its kind anywhere. It's a joy to watch it in action – it's cutting edge technology producing the highest quality, totally repeatable products. We've taken a huge leap forward ahead of our competitors here and we're looking forward to winding up the production levels after an initial conservative approach to get the factory up and running smoothly."
The new factory is the icing on the cake as the business progresses as a genuine one stop shop for shower related products. As well as being the largest manufacturer of shower trays, MX offers a wide range of electric showers, thermostatic shower valves, shower enclosures, brassware and the widest range of shower accessories in the UK, from its factories in Tewkesbury and Ross-on-Wye in Herefordshire. As well as its own huge branded product range, it supplies components for the vast majority of showers sold in the UK.