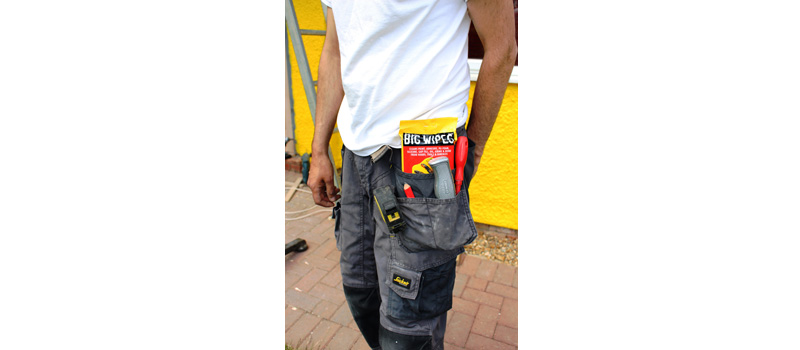 Tradespeople can now take the awesome power of Big Wipes wherever they go, because, for the first time, the industrial strength wipe specialist has harnessed its 4×4 formula in new compact sachet packs of 40 wipes.
Thanks to these conveniently sized sachet packs you can now keep the Big Wipes 4×4 'one wipe and it's gone' cleansing power even closer to hand than ever before! If you haven't got space to carry a tub, no worries – the sachet pack dimensions have been designed and specified to fit perfectly into the tool pouches of most leading brands of workwear, van gloveboxes and toolbags. This makes them ideal for jobs in confined areas such as loft spaces, under sinks – in fact anywhere there is filth that needs to be blitzed.
However, just because they're compact, it doesn't mean you lose the size, because the Big Wipes in the new sachet packs are as big as their brothers in the popular yellow tubs (20 x 30cm).  The wipes stay just as hydrated as they would in a tub, thanks to the self-adhesive quick seal, which stays sticky from first wipe to last.
You won't even need to share them with work mates – your secret stash of Big Wipes can stay right with you as you work! "We know how tubs of Big Wipes get shared on site between colleagues, but thanks to the sachet packs, you can keep Big Wipes 4×4 all to yourself!" says Nigel Dibbo, Managing Director of Big Wipes.
Big Wipes 4×4 instantly shift all modern construction sealants, PU foam, adhesives, paints, coatings and grime. They contain no fewer than four powerful cleaning agents and four dermatologically tested skin conditioners (Aloe Vera, Lanolin, Vitamin E and Glycerine) to nourish and protect the skin, making Big Wipes 4×4 cleaning wipes even tougher on grime and even kinder to your hands.
Big Wipes 4×4 products also offer a massive >99.9% antibacterial protection and leads the market, having been assessed to the latest EU Regulation 1223/2009 for cosmetic products, with zero levels of irritation recorded during controlled testing by dermatologists. Furthermore, Big Wipes are 100% preservative‐free.
The Big Wipes 4×4 sachet packs come in two varieties:
Heavy-Duty – The blue scrub and clean fabric offers fantastic cleaning and additional 'wetting agents' to ensure the even distribution of liquid across the fabric. Textured and dual-sided, the scrub face of the wipe removes even the most stubborn grime, while the smooth face absorbs any excess.
Multi-Purpose – A power fabric in a striking yellow colour, Multi Purpose wipes are a leading combination of toughness and absorbency. This material is exclusive to Big Wipes and represents an almost perfect industrial grade fabric.
For more information about Big Wipes, visit www.bigwipes.com or www.facebook.com/bigwipes.