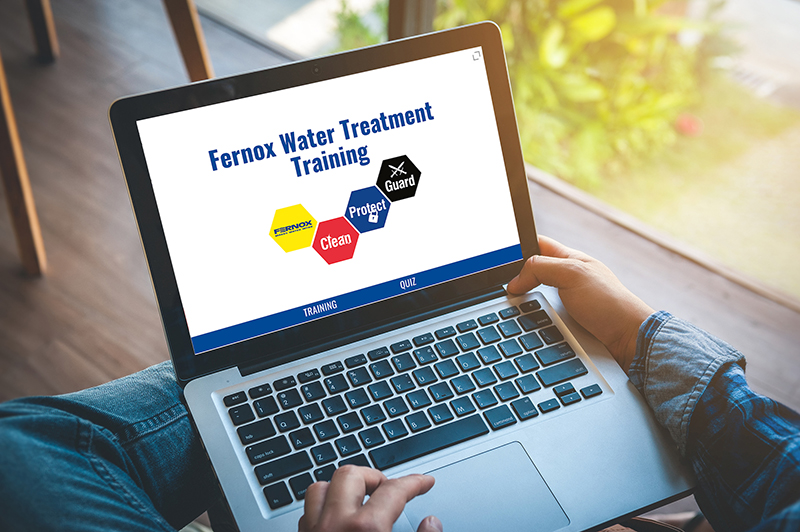 Fernox has released a new online training module focusing on water treatment for central heating systems. Aimed at plumbing and heating professionals with varying levels of experience, the interactive course is available on the Fernox website – and provides a one-stop source for information and how and when to use the Fernox product range.
The module covers a range of key industry topics, including why water treatment is necessary, the importance of cleaning the central heating system, and why inhibiting is crucial to maintain central heating system health and efficiency. Each section is designed to expand your knowledge of central heating system maintenance and ensure that you can effectively advise – and sell to – your customers.
The 20-minute module also provides an overview of the Fernox product portfolio and an explanation of when each product should be used. The products covered within the training include: Protector F1, Protector+ Filter Fluid; Boiler Noise Silencer F2; Cleaner F3; Leak Sealer F4 and the TF1 filter range. Helpful videos explain the role of the Fernox products and explore the science behind them and how they work.
On completion of the course, there is an opportunity to take the Fernox Water Treatment Quiz – allowing participants to formalise their knowledge and receive a downloadable certificate upon successful completion (based upon achieving a minimum of 70% of the questions answered correctly).
Francine Wickham, Global Marketing Director at Fernox, concluded: "We believe our online Fernox Water Treatment module is an informative method for heating and plumbing professionals to remain up to date with best practice procedures, industry innovation and to understand how central heating systems should be correctly maintained."
To take the Fernox water treatment training course, visit fernox.com/fernox-water-treatment-training/