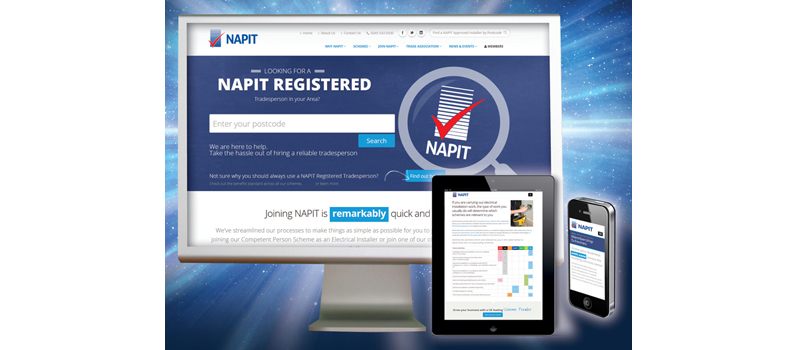 NAPIT has launched a brand new website, making it easier than ever before for tradespeople to join, self-certify their work, manage their membership and boost their online presence.
With an uncluttered design, intuitive navigation, and fully interactive feel, www.napit.org.uk  has been completely redesigned to offer a vastly improved user experience.
NAPIT Group Marketing Manager Jenny Gaunt said: "NAPIT puts the feedback we receive from our members at the heart of everything we do. When creating the website, we wanted to ensure everything was easy to understand, easy to navigate and, above all, engaging to use.
"Our core motivation was to make the whole customer journey with NAPIT completely stress free. We have introduced a step-by-step joining process as well as a handy overview section for new and existing members.  You can instantly see which schemes may apply to your business, simply by selecting the types of work you do. It means that accessing outstanding service is now just a few clicks away."
Group IT Manager Andrew Milner said: "We have added a great deal of functionality to the site and redesigned our search facility. Each NAPIT member now has their own business page. This means potential customers can now find them even more easily via search engines.
"The site allows us to boost our members' Google rankings and helps customers to contact them directly via a new enquiry form. It's also supported by a new indexing system that creates a dedicated page for each listed trade in every town and city. This means that thousands of new search terms and combinations are now optimised for Google, driving traffic and giving NAPIT members the edge online.
"The site is also designed to change responsively for all devices. Whether you're accessing downloads on your smartphone at work, keeping up to date with the latest industry news on your tablet with your feet up, or renewing your membership on your laptop, the appearance of the website will automatically adapt to ensure you don't experience any loss of functionality."
The new NAPIT website is now live. To take a look around and see how NAPIT might benefit your business, visit: www.napit.org.uk.