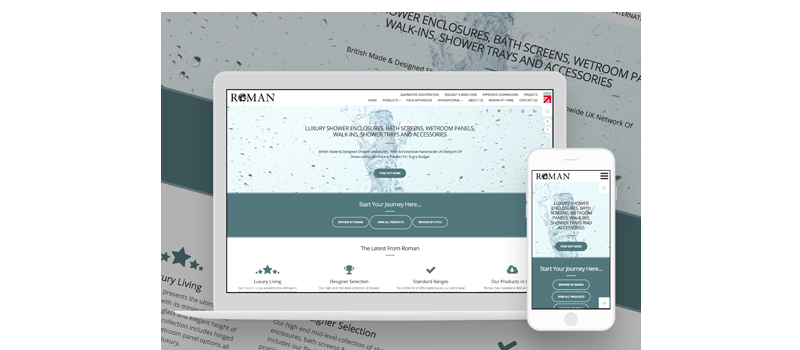 Roman, the shower designer and manufacturer, is building on its already successful website by updating it with the latest features and technology, aiming to provide a supreme user-friendly website experience.
Roman's new look website with latest technology and trends has been launched alongside the corresponding mobile website version. The leading shower manufacturer's website has a brand new layout, design and use of new technology to ensure it provides the most user-friendly experience possible.
The colours, images and design that have been implemented are fully consistent with the company's new brochures, POS and all new literature that Roman distributes. Each Roman range has its own dedicated colour, which has been applied to the website, to make it easy for the user to distinguish between ranges.
Roman's "water people" have been used on the website – the "water woman" is featured on the homepage banner and they are used throughout all of Roman's new literature.
Roman's homepage is designed with a story telling layout, which cleverly guides the user around the site, helping them to find what they are looking for with speed and ease. A 'back to top' arrow has been used at the bottom of every page to also enhance usability, so users don't have to waste time scrolling all the way back to the top of the page.
A new search facility has been added to the site, which expands to the width of the page when clicked on and accurately finds products for key words entered, to increase searching speed for the user. All online forms have been updated to ensure complete user friendliness is achieved, making the process quick and easy.
The mobile website view of the Roman website has also been re-designed and updated to make usability as simple and straightforward as possible. Only key links and messages are displayed on the homepage to help direct the user to what they are looking for quickly and efficiently. The navigation menu slides out from the right hand side of the screen, instead of the left, to make it easier to operate and navigate around the Roman website whilst holding the phone.
The website displays all accreditations such as the company's CE mark, BSI logos and Made in Britain, and membership logos such as the BCFA, BMF and BMA on a scrolling banner.
David Osborne, Managing Director of Roman, commented: "We have always had a successful website but we want Roman to stay ahead. We are acutely aware of the advances in website technology design and need to make sure we are as prominent in our website as we are with our products and services."