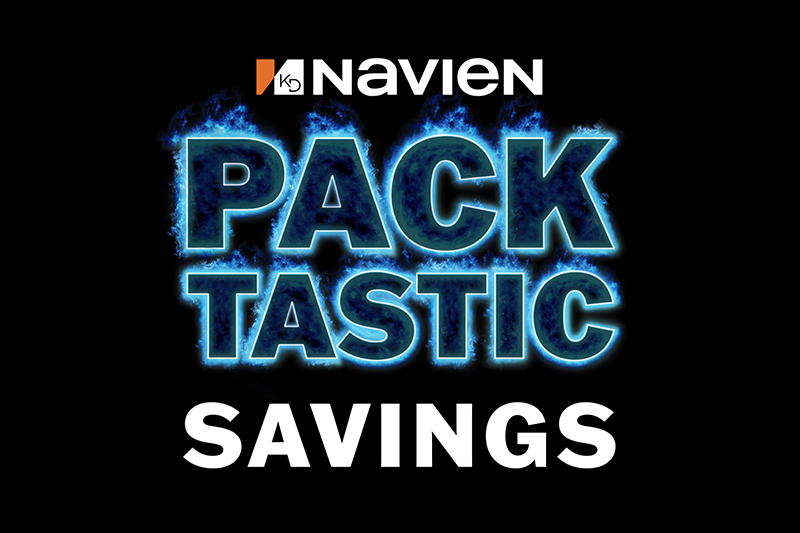 Following the launch of 'Packtastic' in 2020, Navien will be continuing to offer gas and oil installers extended warranties on its NCB-CE Gas Boilers and LCB700 Blue Flame Oil Boilers. Packtastic groups Navien's highly efficient boiler ranges together with the latest smart technology and free flues – as well as extra warranties – to offer installers savings of up to £212.
Available from over 400 stockists across the UK, Navien's NCB-CE Gas Boilers and LCB700 Blue Flame Oil Boilers can be purchased in either a 'Smart Package' or an 'ErP A+ package'.
The Smart Package includes a Navien Smart Plus controller, a free standard horizontal flue and improved energy efficiency from 93% to 97% (ErP rating), while the ErP A+ Package comprises three Smart Plus controllers, free flue and improved energy efficiency from 93% to 98%. Each package also includes a 10-year warranty, providing an extra three years on the standard warranty supplied with the NCB-CE gas boilers.
Commenting on the offer, Jason Davies, National Business Manager at Navien, said: "We want as many Navien installers as possible to take advantage of the Packtastic savings available to them! Our oil and gas boilers are already renowned for their high quality and efficiency – now our customers can also enjoy extended warranties, free flues and tremendous cost savings. Plus, homeowners will also benefit from enhanced levels of energy efficiency and controllability."
A key component of Navien's Packtastic offering is the company's Smart Plus control. Features including smart weather forecasting and geofencing capabilities ensure optimum end user comfort, while all devices are three-zone ready and boast smartphone connectivity. Utilising the control alongside Navien's oil and gas boilers also improves energy efficiencies, raising their overall ErP rating to 'A+'.
Each Navien NCB-CE Gas Boiler boasts a stainless steel heat exchanger, digital display panel and turndown ratio of 10:1. Water resistant inside and outside to IPX5D standard, they use 60/100mm plastic flues and are supplied with a free LPG conversion kit. These quiet running units have low NOx emissions (Class 6) and are also easy to install and service.
All Navien LCB700 Blue Flame Oil Boilers use the latest blue flame burner technology to ensure the highest standards of performance and energy efficiency. Benefitting from ultralight lift weights from 58kg, all units utilise stainless steel heat exchangers and 60/100mm plastic flues – offering low NOx emissions of 57mg/kWh and efficiencies as high as 104%.
For more details about Navien's Packtastic offers, visit navienuk.com/packtastic