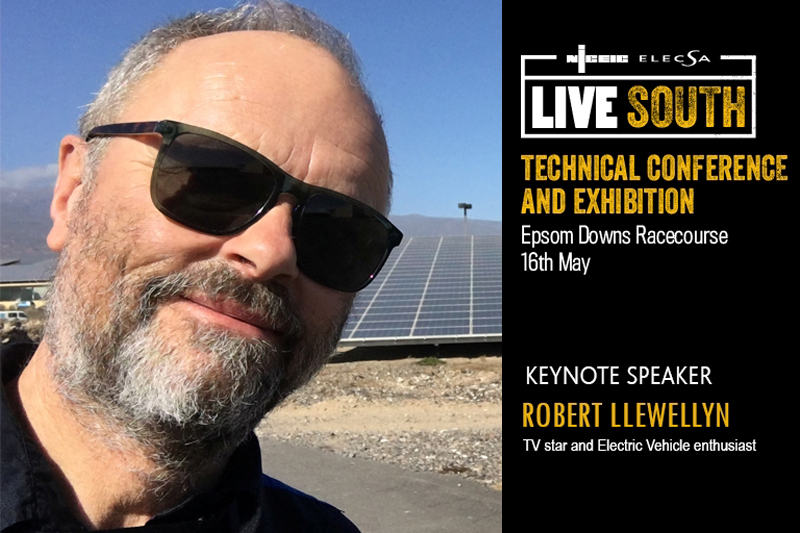 TV star and electric vehicle advocate Robert Llewellyn will be the keynote speaker at this year's Live South event, hosted by NICEIC and ELECSA.
Llewellyn, who is best known for his roles in TV's Red Dwarf and Scrapheap Challenge, now runs the YouTube channel Fully Charged. It looks at the development of electric vehicles (EV) and renewable energy and has attracted more than 50 million views since its launch.
He will be discussing the latest developments in the EV sector which now make it a viable alternative to traditional petrol and diesel powered vehicles. He will also be looking at the role electricians can play in delivering the growing network of EV chargers needed to meet this new demand.
Mark Smith, Marketing And Communications Director for NICEIC and ELECSA, said: "Robert is an engineer at heart and passionate about the capabilities of electric vehicles. He is one of the most high profile advocates of renewable technology and his passion and enthusiasm make him an excellent fit for Live South. We are delighted to have him attend this year's show."
Other confirmed speakers at Live South, which takes place on May 16 at Epsom Downs Racecourse, include Mark Coles, Head of Technical Regulations at the IET, and NICEIC & ELECSA's technical experts. They will be presenting talks on the 18th Edition BS7671 Wiring Regulations and answering the most frequently asked questions relating to technical issues in the industry.
Tickets cost £29 plus VAT for NICEIC, ELECSA and ECA contractors, and £49 plus VAT for non-registered persons. Apprentice passes are available free of charge.