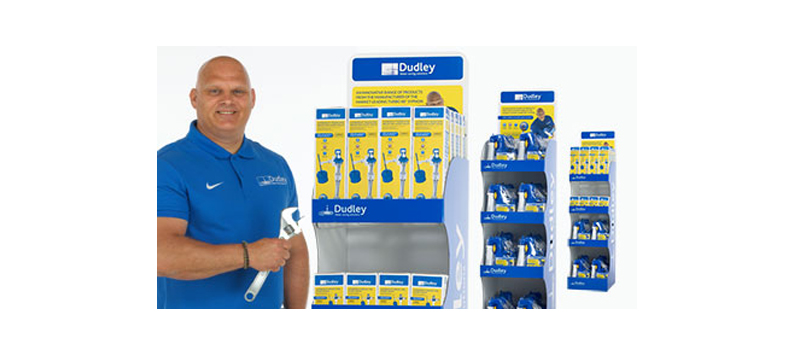 Midlands manufacturing company, Thomas Dudley, has launched a new line of packaging, designed to promote its quality Dudley plumbing products to the wider retail and trade market.
Lesniak Swann, Staffordshire's leading integrated communications agency, was tasked with revisiting all of the packaging to align brand elements, bringing the Dudley brand to the fore and positioning the range as offering a complete value-adding portfolio.
Andy Burton, Marketing Manager at Thomas Dudley, explained: "We wanted to unify all of the products with a consistent packaging design, and also make the packaging more customer-focused as we expand both the Dudley range and brand profile. Lesniak Swann made what could have been a daunting project simple and we are delighted with the results."
Lesniak Swann has designed a packaging range that is unified, eye-catching and delivers more focussed sales messages. This has helped to get the product to the forefront of stores within Thomas Dudley's distribution channels, with merchants being very supportive of the new design and stocking more of the range. More importantly, the new packaging prominently promotes the Dudley brand along with key product benefits.
The packaging has been designed to be eye-catching for retail customers, with the consistent use of blue and yellow, and the Dudley logo is featured prominently on all packaging. Key sales messages and environmental credentials have been highlighted, helping to further promote the Dudley products to a wider retail audience.
In addition, Lesniak Swann has worked with Thomas Dudley to develop a new point-of-sale display which will be used to merchandise the new packaging. Launched earlier this year, these units have already delivered significant incremental revenue.
Simon Fleet, Sales and Marketing Director at Thomas Dudley, commented "We've had some amazing feedback from merchants and retailers on the new packaging design, and we're seeing more Dudley products on shop floors as a result. Lesniak Swann has worked with each and every product to ensure the packaging promotes the Dudley brand to the maximum, whether it's on a large concealed cistern or a small push button."