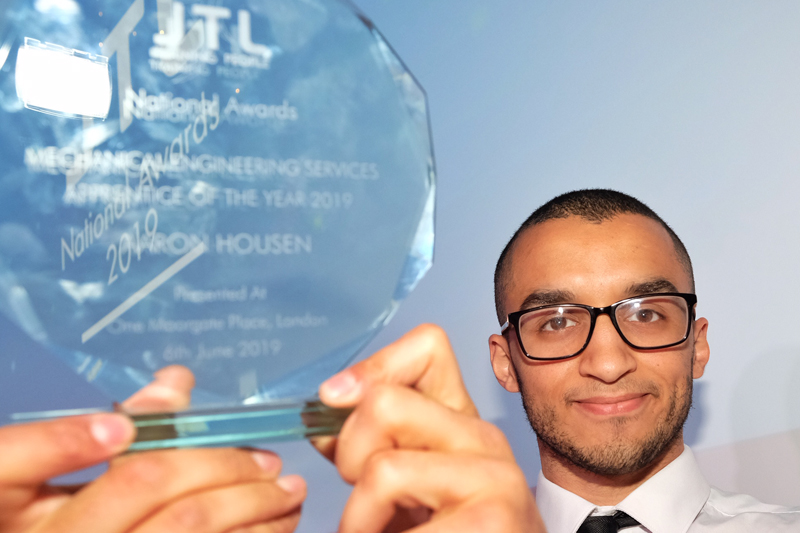 Aaron Housen from Hayes has been named JTL's 'National MES Apprentice of the Year' – covering plumbing and heating skills. He was chosen from a cohort of more than 1,200 final year apprentices.
This year the award was sponsored by JTL's partner, Monument Tools. Aaron was presented with an engraved glass award and a toolkit valued at in excess of £500.
JTL runs its annual awards to celebrate the highest achieving young trainees in the building services engineering sector. Candidates – all in the final year of their apprenticeships – are nominated from each of JTL's seven regions across England and Wales based on their outstanding performances throughout the four years of their training.
Aaron, who works for Dunamis Heating and Mechanical Services Limited in Hayes, Middlesex, said: "Despite winning the regional award, I didn't really believe I had a chance of taking the National Award as well. It's been really rewarding working my way through an apprenticeship. To end up with an award as well has hugely exceeded my expectations. It was an amazing day and it was great to be able to share it with my family and especially my new son Eli – who is just five weeks old!"
Aaron's employer is his father Ray: "I'm ecstatic! Absolutely blown away. I knew how good he was but, as his father, I was a bit biased… it was brilliant for Aaron and our small business that other people recognised his ability and potential as well. Not many businesses can say 'we employ a national award winner on our team'! Clearly there are exciting times ahead."
JTL Training Officer, Mark Brown, comments: "Aaron has passed all his exams to the highest level completing his NVQ Level 3 and his gas safe training. In addition, he has been an exemplary attendee at Amersham and Wycombe College over the four years of his apprenticeship. He works in large domestic properties with wealthy and often testing clients, but he always conducts himself professionally. He now does surveys and quotes for the business and has begun training another apprentice. He always seems to have time, however busy the business is, which is a skill in itself.
"He works to the highest standards I've seen in an apprentice in my 14 years in this role as a training officer."
JTL's Chief Executive Jon Graham says: "Our awards are a great opportunity to recognise the excellence of the learners we work with. These are bright individuals, many of whom have had the opportunity to go to university but have made the choice to follow an apprenticeship and 'earn while they learn'.
"In my conversations with this year's finalists, I've been struck by the maturity of each of them – they've carefully weighed up their options and then committed 100 per cent to their apprenticeship. We recognised and celebrated some brilliant young talent at our awards ceremony. It's been a pleasure and an inspiration getting to know Aaron and the other finalists as part of this process."
JTL runs apprenticeship schemes in partnership with colleges and workplaces. This year alone, more than 1,200 learners have completed apprenticeships with JTL and more than 2,650 have started courses.
JTL MES apprentices currently undertake either a two-year Level 2 or a four-year Level 3 apprenticeship, splitting their time between a college or training centre – where they study theory and gain underpinning knowledge – and their employer's workplace, where they gain on the job experience. A JTL Training Officer works closely alongside each apprentice, their college and employer to provide advice and to monitor and assess their work.