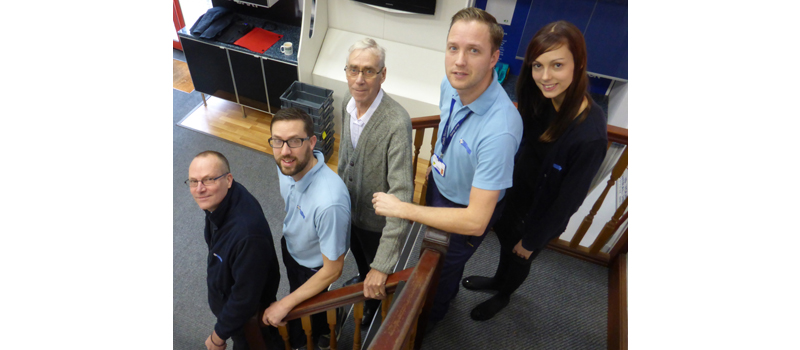 Swale Heating has built its reputation on being family-friendly – in more ways than one.
In fact, the Sittingbourne-based company's staff includes four fathers and their sons, four sets of brothers, two lots of sisters, two husbands and wives, a mother and daughter, and an uncle and his nephew. Not to mention one family that's been working there for three generations.
Call-out engineer Kevin Long, 33, is one of four members of his family who work for Swale Heating, alongside siblings Charley Long, 21, and Steven West, 38, and dad Dean Long, 52.
"My grandfather Brian Steddy was the first in the family to join the company more than 40 years ago when it first started," says Kevin. "He's retired now but he worked for Swale for 30 years, mostly as an installer, and was then a supervisor for about 10 years.
"I joined first as an installer, then as a sub-contractor. I was pretty young and inexperienced but my grandfather always used to phone or call round to make sure I was doing OK, even though it wasn't his job to supervise me! I left the company for a while and worked for myself but came back about two-and-a-half years ago as a call-out engineer and I've recently been promoted," adds Kevin.
"My father Dean took his apprenticeship with Swale when he was 16 and, like me, went off and did other jobs, but has been back at Swale for the past 10 years as an installer. Steven has been here for 10 years as a call-out engineer, and eight months ago we all encouraged my little sister Charley to join and she's now part of the commercial planning department."
So what makes Swale Heating such a great place to work?
"We've worked for other companies on and off over the years but while they've all come and gone, Swale Heating's always been there. There's so much opportunity to progress at the company. That's one of the reason's we encouraged Charley to join."
Swale Heating's Sales Director, Matthew Edwards, adds: "Swale Heating started out as a family company from humble beginnings and we've always prided ourselves on being friendly and approachable. The fact that so many staff who start out with us return time and time again, or recommend us to other family members as a great employer offering excellent career prospects, speaks volumes for our values."
Swale Heating is the largest independent heating company in the South East. It has been installing and maintaining heating systems for both domestic and corporate clients for four decades, gaining a reputation for excellence among domestic heating customers in 125,000 homes, as well as over 35 housing associations and local authorities across Kent, outer London, Sussex, Essex and East Anglia. For more information about Swale Heating, visit www.swaleheating.com.