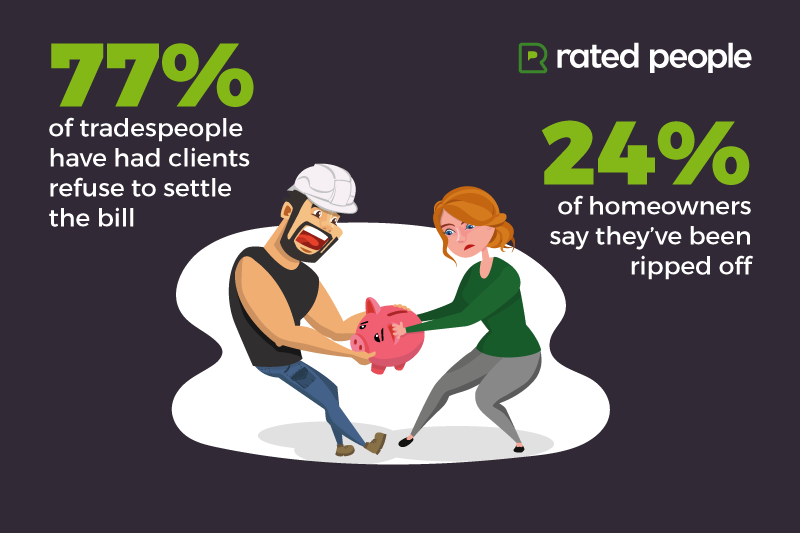 A whopping 77% of tradespeople have suffered from a client refusing to settle the bill for completed work.
That compares to just 24% of customers who say they have been fleeced by rogue tradespeople, according to a poll of 2,500 adults by Rated People.
Almost half of all tradespeople say they have had clients who refused to pay a single penny for a completed job, with more than two thirds (68%) saying this has happened more than once.
Whether intentional or as a result of misunderstandings concerning the project, the average tradesperson loses 20% of their annual earnings to issues with customers. 64% of them had to sue in order to get their money.
Rated People has partnered with Shieldpay to launch a Protected Payments service – an alternative way to pay that fully verifies the identity of both parties and builds trust between homeowner and tradesperson. The homeowner's money is held securely by Shieldpay but is visible to both parties. Only when both are happy the work's been completed as agreed is the money released.
The paving, gardening and plumbing trades are most affected by payment refusals. 96% of paving tradespeople have had this problem, followed by 77% of gardeners and 76% of plumbers. Heating, paving and plumbing have suffered the highest losses, while those in the roofing trade have been fleeced the least.
Average loss of earnings by trade

| | |
| --- | --- |
| Industry           | Loss of earnings |
| Heating | £11,014 |
| Paving | £9,262 |
| Plumbing | £8,733 |
| Decorating | £8,599 |
| Gardening | £8,123 |
| Building | £8,012 |
| Roofing | £6,909 |
The British homeowners surveyed said builders were the trade they had been ripped off by most (27%), followed by plumbers (23%), decorators (22%) and gardeners (19%). 56% of these rip-offs were in the form of what they considered to be poor quality work. 60% of Brits saying they'd use a service that allows them to pay into a holding vault where the money will only be released to the tradesperson once the customer's satisfied with the work.
The tradespeople surveyed were most likely to disagree with their clients on price (49%), quality of work (48%) and timings (37%). London's tradespeople have experienced clients refusing to pay the most, with 81% saying this has happened more than once. The average London tradesperson has lost 23% of their annual earnings because of rogue clients, averaging over £8,700.
Londoners are also the most likely to have felt short-changed by a tradesperson (32% vs a national average of 24%), followed by people who live in the North East (31%), and to have unfinished DIY jobs in their homes (47% vs a national average of 37%).
Celia Francis, CEO of Rated People says: "Most tradespeople and homeowners out there are decent, honest and fair. But there are exceptions on both sides and this can create a barrier of mistrust, which makes it harder for great home improvement work to get done. Protected Payments will help break down that barrier by offering more security around payments and giving peace of mind to both homeowners and tradespeople."
Peter Janes, CEO and Founder of Shieldpay says: "Homeowners and tradespeople enjoy real peace of mind with Protected Payments. No longer having to rely on riskier cash payments or bank transfers, homeowners have more control over their money and tradespeople are reassured that the funds are there to pay them for their work. All with the added benefit that both parties are protected from fraudsters. Secure payments are set to revolutionise the home improvement market and ensure better outcomes for all."