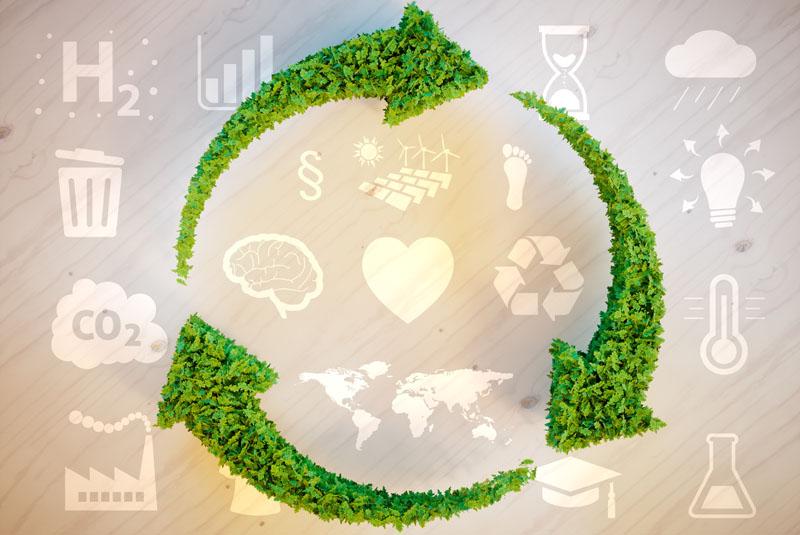 As part of some research into the industry's sustainable credentials, PHPI asked industry for feedback on how the companies and products installers use every day are working to reduce their environmental impact. The report is available here, while individual responses have been rounded up below.
Viessmann
Darren McMahon, Marketing Director
"Viessmann was the first heating sector company to commit to environmentally responsible manufacturing, processing and disposal in 1992, the same year it started manufacturing completely recyclable products. It was also the first manufacturer to register with the EU eco audit body, EMAS, in 1995. We track the waste of our consumed energy, water and production materials such as steel and packaging, which is reducing year on year.
Viessmann's newest factory operates with CO2-neutral provision of heating, cooling, and power; a photovoltaic system provides 60% of the required power. Only environmentally friendly, minimal-emission, and recyclable building materials were used for the construction."
HB42
Using advanced hybrid polymer technology to give trade strength and adhesion, the HB42 All-in-One Sealant and Adhesive is now available in a more sustainable 400ml foil pack, removing the environmental problem of disposing of the single use plastic cartridge. It is estimated that over two million single use plastic cartridges are put into landfill every week in the UK. The HB42 foils are sad to produce around 95% less waste than one-use plastics.
Lakes Showering Spaces
Mick Evans, Operations Director
"Our new 100% recyclable cardboard boxes have been reduced in size for a tight and safe fit around the product, which means all the polystyrene that was previously used inside the packaging to encase the glass panels is no longer required. This will remove two million pieces of polystyrene from landfill a year. The reduction in size of the box also means reduced sea freight and haulage costs and improvement in the environmental impact of our deliveries — smaller box sizes mean we can now load more products in our vans. Not only is the packaging 100% recyclable, but so is all product waste, primarily glass and aluminium."
Lakes has also achieved the Carbon Footprint Standard having assessed its carbon emissions and achieved carbon neutrality via support of internationally certified carbon offset projects. To compensate for carbon emissions produced in the natural day-to-day running of a business, Lakes is working closely with Carbon Footprint Ltd to offset them in three ways. First by planting trees in the UK, as well as Lakes supporting a Uganda borehole rehabilitation project to provide a source of clean drinking water, and a solar power energy installation in India.
Bristan Group
Paul Jones, Health and Safety & Facilities Manager
"At Bristan, we understand that customers are keen to do their bit for the environment and as zero waste to landfill company we try to help them to reduce the amount of unrecyclable products they are purchasing. For example, we ensure all our waste cardboard is recycled into new packaging materials and our baled plastic is sent to a plastic processor for 100% recycling. Our ceramics waste is crushed and used as non-specification road building materials and we recycle 90% of the water used in the endurance testing of Bristan products in our in-house test lab."
Conex Bänninger
Conex Bänninger considers the impact of manufacturing processes during the initial design stages and aims to adhere to the guidelines that have been set out by ISO 14001. Regular reviews are also put in place to measure and control the amount of harmful materials and oils that are used in the production process and filtering systems.
Our packaging has also been adapted to include mostly recyclable cardboard and plastic materials, with a target weight being outlined in order to reduce the quantity of unnecessary packaging.
Triton Showers
Tina Simpson
"In 2015 Triton Showers set a target to achieve zero waste to landfill by 2018. A long-term strategy geared toward recycling or reusing all waste components and materials, we fulfilled this ambition two years before target and have maintained this status ever since.
"We are also looking to encourage our suppliers to take a more environmental approach to production and purchasing. For example, we have set our suppliers a target to use returnable packaging by 2020 and, all new products now feature an environmental checklist outlining energy usage, and also packaging and materials used. It's about being ethically responsible throughout the supply chain."
Polypipe
In 2018, Polypipe recycled 44,700 tonnes of plastic, of which 17,500 tonnes came from recyclable plastic bottles and containers. As such, recycled plastic accounted for 80% of the raw material consumed by our Civils and Infrastructure Division in 2017, to produce pipes that were destined to be buried in the ground in applications that will manage and treat rainwater and stormwater.
Polypipe Building Products has also recently launched its multi-layer recycled core waste pipe, which has a minimum of 50% recycled material in its construction.
Wavin
Mike Ward, Wavin's Territory Director for the UK and Ireland
"Wavin's goal is to facilitate the safe distribution, drainage and storage of water through innovative, resource-efficient solutions. That's why we send no plastic to landfill and buy in third-party used plastic to be used in the production of some of our products.
"Similarly, our portfolio includes what we call Recycore Technology, which is a method of using recycled materials, such as old double-glazing window frames and other waste assets from the housing sector, to produce high quality products with recycled content. This technology has been applied to our multi-layer, solid-core pipes, containing over 50% recycled content."
Grohe
Paul Bailey, Senior Category Manager
Sustainability is an integral and crucial part of Grohe's corporate strategy. Grohe EcoJoy technology which is incorporated into a number of its tap and shower ranges can reduce water consumption by up to 50%.
The new tap in the Plus range available in the UK later this year, uses a digital display to inform users about the exact water temperature and to make them aware of how often hot water is being used. This promotes responsible use of the valuable resource of water and helps to save energy. Our 3D metal-printing process is a particularly resource-saving method of manufacturing taps.
Jung Pumpen
Jung Pumpen relies on an environment and energy management system, the aim of which is to organise the entire company as efficiently and sustainably as possible, from the building to production and the vehicle fleet. This not only ensures that all legal environmental requirements are met, but also that potentials that go beyond these are exploited.
Salamander Pumps
To reduce packaging waste, Salamander Pumps ensures all its cardboard is from the FSC (Forest Stewardship Council) and manufactured from at least 80% recycled material, whilst avoiding the use of non-biodegradable materials such as polystyrene. Additionally, all waste packaging is recycled, and 40% of all Salamander's general waste is recycled to reduce landfill.
Additionally, many of the plastics used in the products utilise regrind recycled plastic, combining a percentage of recycled plastic with virgin material to ensure integrity of the pumps. Salamander's 'Return to Base' policy also means that all components are separated and fed into a recycling process, through its approved waste carriers, helping Salamander to be holders of 14001 compliance.
Vaillant
Steve Keeton, Technologies and Training Director
"At Vaillant, recyclability… is a key element of our '6 Green Rules' strategy. We complete analyses of every part of the process to ensure we meet strict criteria in terms of energy efficiency, durability, responsibility, service, handling and disposal for each product. We also take into account the emissions along the entirety of our supply chain as well as how we conduct ourselves as a business in areas such as travel.
"Our flagship boiler, the ecoTEC exclusive with Green iQ, is designed to have a longer life and be 85% recyclable. Wherever possible, we reduce, reuse or recycle as many elements of the packaging as is possible."
Fernox
Claire Lopez, Marketing Manager
Fernox is committed to reducing the environmental impact of its products and recognises the responsibility the construction industry has to reduce waste. As part of this commitment the recently reformulated Fernox Express Range comes in fully recyclable cannisters – ensuring that, once systems are dosed, installers can safely recycle the packaging. The 'F' range also has non-toxic, environmentally friendly formulations, again resulting in minimal impact on the environment. All Fernox products are EDTA, Nitrate, Nitrite, Phosphate and Borate free.
EOGB
"As a manufacturer, we don't use any single-use materials in our packaging. There's really no excuse for the continued use of non-recyclable materials, and we make every effort to reuse any recyclable materials that we receive from other companies."
Pendock
Richard Braid, Managing Director
"Manufacturers have a vital role to play in reducing waste and unrecyclable goods. At Pendock, we are looking at ways to change our manufacturing processes and the packaging methods and materials we use and are striving to implement ISO 14001:2015 to improve our environmental performance. Having an environmental policy in place is becoming increasingly important to our customers, and, as well as benefitting the planet, it will enhance our business credentials and give us a competitive advantage."
Marley Plumbing and Drainage
Samantha Park, Marketing Manager
"At Marley Plumbing & Drainage, we are continually looking at ways to improve the company's environmental impact. For example, we are part of the Operation Clean Sweep, which is an initiative that aims to ensure that plastic which passes through our manufacturing facility is handled with care and does not end up in our rivers or seas. We also ensure that we distribute every one of our small and medium fittings in a fully recyclable box and for larger fittings, we send them loose to minimise the usage of shrink wrap.
"Many of our product ranges are manufactured using recycled content, such as our rainwater systems which contain 15% post-production recycled content and our 110mm soil pipe, which contains a minimum of 30% post-production recycled material."
Armacell
Armacell has recycled one billion PET plastic bottles since 2010, some of which get used as load bearing segments within ArmaFix pipe supports. That equates to over 110 million plastic bottles recycled each year.
PET from recycled plastic bottles is an extremely environmentally friendly material with a low thermal conductivity and a high compressive strength. The PET segments can be completely recycled at the end of their service life, with all production scrap flowing back into new PET blocks.
Aqualisa
Paul Catherine, Waste & Continuous Improvement Supervisor
As well as educating the workforce, we have implemented changes that led to a reduction in general waste at Aqualisa of 1,000,000 litres. By minimising the product packaging, the company saves on the use of cardboard and means it can fit more of these compact boxes onto pallets for transport improving efficiency and reducing carbon emissions. Encouraging this way of thinking has influenced product design, with new shower features that can save up to a third of water use per shower for our customers.
We have also reduced waste directed to landfill by over one million litres in the last 18 months by introducing recycling bins to every area within the business, and schemes such as providing reusable bottles to make each employee personally accountable for reducing plastic waste.
Plumbase
Plumbase has launched a company-wide sustainability initiative. Activities under the new initiative include plastic bag elimination and introducing LED lighting across its distribution centres, to investing in more efficient vehicles and switching to renewable energy. Meanwhile, the merchant has grand plans to further reduce its carbon footprint and environmental impact across all of its branches, nationwide.
The company has also announced its partnership with Big Clean Switch, a social business which helps people and businesses to move to renewable electricity providers.
With the aim of reducing its carbon emissions from vehicles by 351 tonnes in 2019, the company has already invested in 25 new vans which produce 288g less CO2 per km than the Euro 6 standard requires. Plumbase is also planning to take further steps to reduce pollution as a result of travel by investing in more efficient vehicles, encouraging more fuel-efficient driving and increasing the range of hybrid vehicles available as company cars.