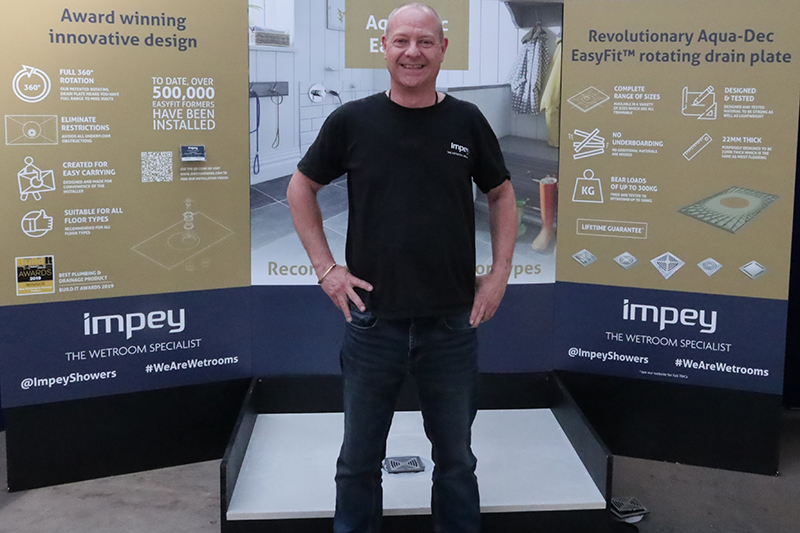 Impey has announced the launch of its first ever virtual wetroom training. The specially tailored online version of the 'We Are Wetrooms' training will take place on Thursday 27 May between 9am and 11am, and registration is now open!
Since its launch in 2016, Impey's We Are Wetrooms installation training tour has welcomed over 1,000 installers, retailers, plumbers and tilers. Unfortunately, all training dates had to be cancelled during 2020, which has led to a steady influx of enquiries from potential attendees.
Keen to offer its latest training and product expertise in a COVID-safe way, the team at Impey has created its own virtual training hub; kitted out with a product presentation studio, demonstration areas and purpose-content created purely for online training, all encompassed within a fresh new look.
Combining pre-recorded videos with a variety of live Q&A sessions, the virtual training will deliver details on all Impey's wetroom solutions including the Aqua-Dec EasyFit and Aqua-Dec Linear floor formers, recognised as the most reliable wetroom solutions on the market. Also covered as part of the training is the installation of Impey's WaterGuard tanking solution, and the Aqua-Grade and Aqua-Grade Linear screed templates for new pour concrete floors.
Lead by Shaun Hunt, Technical Field Manager, who has over 20 years' experience in the sector, the training session incorporates:
Wetroom installation and floor formers
Wetroom installation into a wooden or concrete floor
How to achieve the accurate wetroom gradient
Drainage: gravity fed and pumped waste
Leak-free water proofing
Sarah Hodgson, Brand Manager, said: "We're incredibly excited to be launching our new online training model for We Are Wetrooms and looking forward to virtually welcoming our first attendees! There continues to be lots of new business opportunities for trained wetroom installers across domestic, commercial and healthcare sectors and we're really pleased to be able to share our knowledge and help installers and retailers access those opportunities!"
The free, pre-bookable training runs from 9am to 11am on Thursday 27th May. To gain access for the two-hour training session, sign up at www.impeyshowers.com/for-installers/wet-room-installer-training and you'll be emailed a direct link and full information.