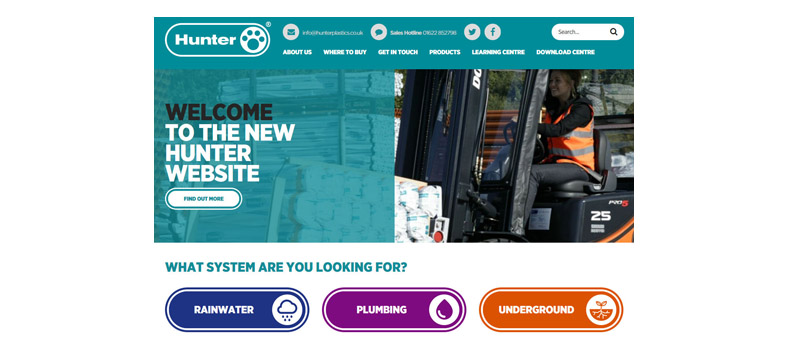 Hunter Plastics went back to the drawing board and has now created a brand new website to provide a helpful online portal for installers and merchants.
Now offering a host of new features such as a sophisticated stockist locator, useful ordering tools, in-depth product detail and comprehensive information resource, the site is visually modern and easier to navigate, with access to downloadable information just a few clicks away.
The key to the refreshed website from Hunter Plastics is to deliver what visitors to the site are looking for simply, intuitively and with as few 'clicks' as possible.
The landing page provides quick and easy access to the most actively visited parts of the site, whilst the interactive colour-led sections offer a clear navigation tool that makes it even easier for an installer or merchant to find what they're looking for.
Kathryn Legg, Marketing Services Manager, comments: "We hope visitors to the new website will find it has significantly improved and will enjoy using it. While all of the technical information is still there, the aim has been to integrate all of our product, project and technical services, making access to the relevant sections swift and simple."
So to have an explore of the new Hunter Plastics, please visit www.hunterplastics.co.uk.