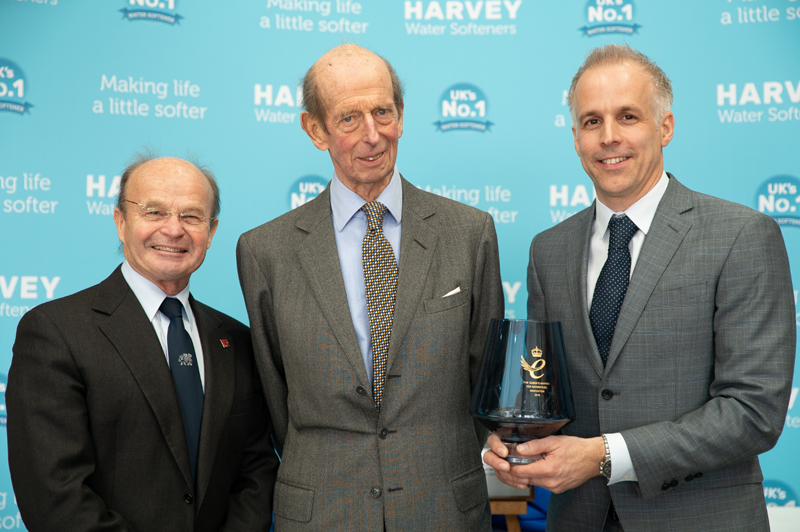 Harvey Water Softeners was visited by HRH The Duke of Kent for the official presentation of the company's Queen's Award for Enterprise in Innovation.
Staff and customers were joined by industry heads and local dignitaries at the company's Woking headquarters for the Royal visit.
After being welcomed by Harvey's founder Harvey Bowden and managing director Martin Hurworth, The Duke was treated to an example customer demonstration showing the benefits of softened water first-hand.
HRH was then given a tour of the factory and production line where thousands of domestic water softeners are made each year before presenting the award to Harvey and Martin in front of well-wishers and friends of the company built up over more than 40 years.
Rt Hon Jonathan Lord, MP for Woking, said: "What a great Woking business success story we have here. What began as one man with a dream is now the largest water softening company in Europe with 300 staff in Woking alone. It only goes to show what can be achieved when you develop the best product and have the drive and ambition to go out and sell it to the rest of the world.
"Harvey Water Softeners is an amazing example for local businesses. We don't have huge amounts of manufacturing industries in this part of Surrey, but Harvey continues to lead the way and show what's possible."
Harvey was chosen by HM The Queen as a winner of The Queen's Award for Enterprise in Innovation for 2018 for its invention of the first compact, non-electric block salt water softener.
Invented by Harvey Bowden, the compact twin-cylinder water softener was the first water softener designed to fit under a kitchen sink with two cylinders that allowed for continuous softening. It solves the problem of limescale build up for the large proportion of UK homes located in hard water areas.
Martin Hurworth, MD for Harvey Water Softeners, said: "We're really pleased to have won this award and it's great that our team has been able to take Harvey Bowden's original idea and grow this business into the success it is today – so well in fact that we now need to move to larger premises to keep that growth going."