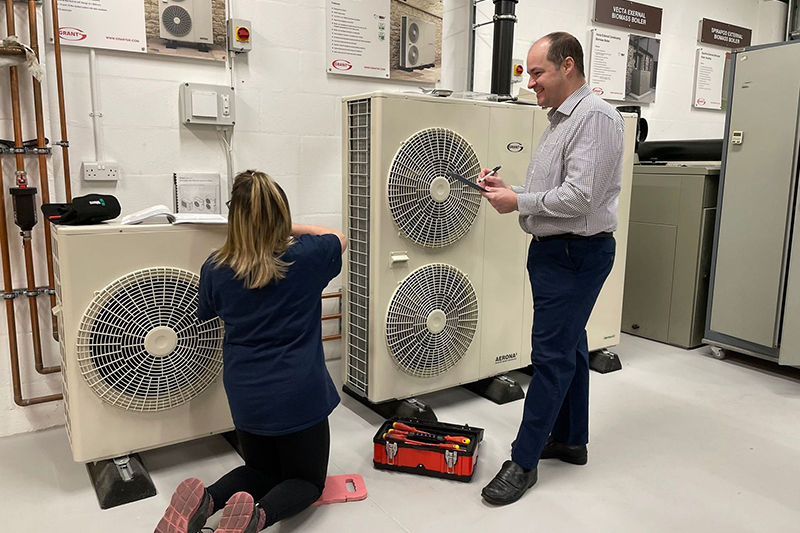 GTEC, in partnership with the Microgeneration Certification Scheme (MCS), has won an almost £1m bid to help existing tradespeople access discounted training in heat pumps and solar thermal, in order to meet the demand presented by the Green Homes Grant.
The Renewable Heat Installer Training & Support Scheme (RHITSS) has been awarded backing from The Department of Business, Energy & Industrial Strategy (BEIS) through Midlands Energy Hub, and covers the whole process candidates need to take in order to achieve their place on the GHG Installer Register.
Awarding organisations BPEC and LCL Awards will provide a number of training locations at their centres throughout the UK to support the rollout of the heavily funded courses.
Financial and practical support
The RHITSS is a whole package of support, designed to provide financial incentive and make the process of becoming a GHG installer as easy as possible. From accessing vouchers which will cover up to 70% of the cost of training and the various certifications required, finding suitable training providers and overcoming the practical barriers to help individuals and small businesses become MCS and Trustmark registered.
Griff Thomas, MD for GTEC, said: "We are absolutely delighted to have been awarded this bid. Our approach is focused on helping installers more easily take advantage of the market potential of two of the most popular renewable technologies. Working with MCS, LCL Awards and BPEC ensures candidates have access to the best possible training and support, while contributing to meeting the UK's low carbon targets.
"With the Green Homes Grant now extended to March 2022, next year could be busy for installers with the right skills to deliver related technologies and services."
Ian Rippin, CEO of MCS, says of the bid: "This is an excellent opportunity for those installers wishing to deliver renewable heat technologies. This scheme will provide the necessary training and support to become MCS certified, which in turn will allow a trained and certified installer to provide customers with a Green Homes Grant supported installation."
Installers wanting to get involved can register their interest at www.rhitss.co.uk
Installers who booked on an eligible course prior to the launch of the voucher scheme may also be able to access funding. Contact your training provider to check.