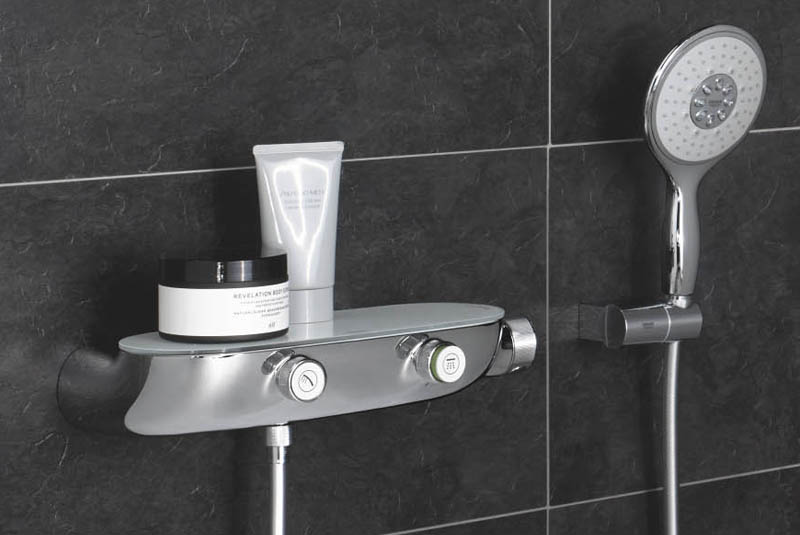 The GROHE shower cashback promotion is back for 2020, offering greater savings and even more eligible products than before. The cashback offer is available across more than 20 of the brand's most popular and innovative shower systems, namely the SmartControl range and Grohtherm thermostatic systems. The promotion runs until 31st March 2020, with all cashback claims to be made by 30th April.
The latest promotion enables customers to make savings of up to £100, with products in the promotional offer spanning an array of installation and aesthetic styles; from exposed, concealed and excealed installations to choices of round or square trims and showerheads in Chrome or Moon White finishes.
The range of SmartControl models and specifications can be found at www.grohe.co.uk. Alternatively, GROHE offers an online configurator tool where you can follow various steps, selecting the preferred style or requirements to find the right model for a project.
GROHE's cashback showers at a glance
SmartControl Exposed systems – The original SmartControl shower system, which is wall mounted, comes complete with head and hand shower, and offers multiple spray patterns
SmartControl Concealed systems– All of the SmartControl technology but with none of the pipework on display
SmartControl Excealed systems – Excealed offers the best of both worlds, with an exposed thermostat still on display but reduced pipework thanks to the wall-fixed head shower meaning a riser rail is unnecessary. Both head and hand shower offer a choice of two spray patterns.
Euphoria – The latest addition to the range is designed to be an excellent choice for retrofit projects. With a traditional exposed frame on display, it has a slimmer interface, creating the illusion of more space in the bathroom. Euphoria offers a multi-jet shower head with up to three shower patterns plus a hand shower for more personalisation than ever before
Grohtherm thermostatic systems – Featuring GROHE's TurboStat technology that eliminates temperature fluctuations in less than a second, the thermostatic models offer sophisticated, behind-the-wall installation thanks to the use of the Rapido Smartbox for a sleek, minimalist finish. Both outlets, as well as temperature and volume, can be operated via the two dials on the trims
New for 2020, the cashback will now be presented via a GROHE-branded debit card. Customers can specify whether they wish to receive an electronic or physical card with which to spend their savings. The card can be used like any other regular debit card, with all cashback savings expiring 12 months after the date of issue.
The cashback offer is available on qualifying GROHE shower models purchased from a verified retailer. You can submit your claim and find Ts&Cs at www.groherewards.co.uk