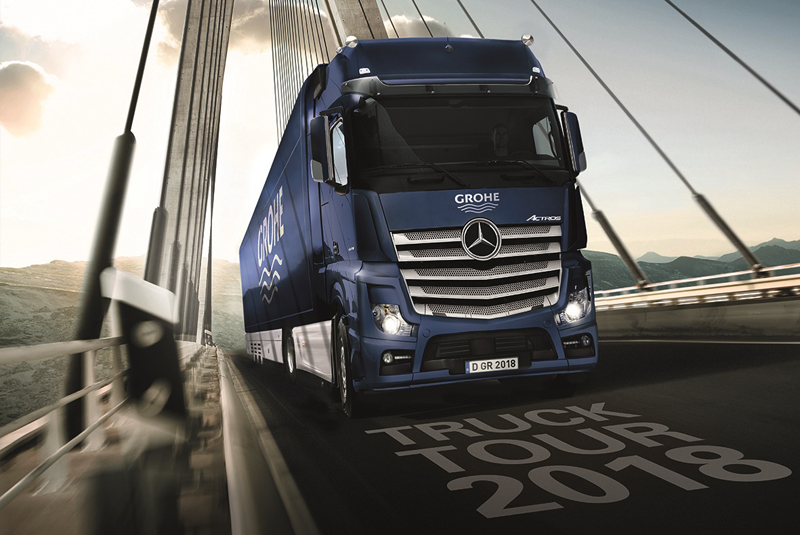 The four XXL trucks from Grohe have taken to the roads once again in 2018. The trucks will provide visitors with an insight into the latest innovations with the opportunity to test products and for professionals to participate in open training sessions.
The vehicles are currently on the road in Germany, France, the Netherlands, Austria and Saudi Arabia with a proposed attendance at more than 800 events globally this year.
Following its success in the UK in 2017, the truck returns for its first stop of 2018 at the Homebuilding & Renovating show at Birmingham's NEC on 22nd March until 25th March. More UK dates and venues will be announced soon.
Trucking along
Just a year ago, the trucks started at ISH in Frankfurt am Main. Since then, the trucks have stopped in 33 countries from Portugal and Switzerland to Norway, Russia and Morocco. So far, the route equates to more than three circumnavigations of the world with a total covered distance of 135,000 kilometres. To date, Grohe has reached 90,000 visitors during its tour, an initiative which has benefited the brand's exposure, says the company.
Expert advice
From AquaSymphony, to the Grohe Blue and Red water systems, to the Sensia Arena shower toilet and SPA F-digital Deluxe, the manufacturer's best-selling products all feature in this year's truck display. In addition, a team of product experts are on hand to advise visitors on product functionality and give useful installation tips.
Installer support
Nearly 15,000 trade visitors have used the opportunity to complete an installers' training course in one of the trucks so far. In addition, trade visitors can sign up for SMART, the Grohe loyalty programme for sanitary professionals.
"With our truck tour, we bring the experience of innovative products to the individual countries," says Michael Rauterkus, CEO of Grohe. "Proximity to the customer and the resulting trust are integral parts of our business strategy."