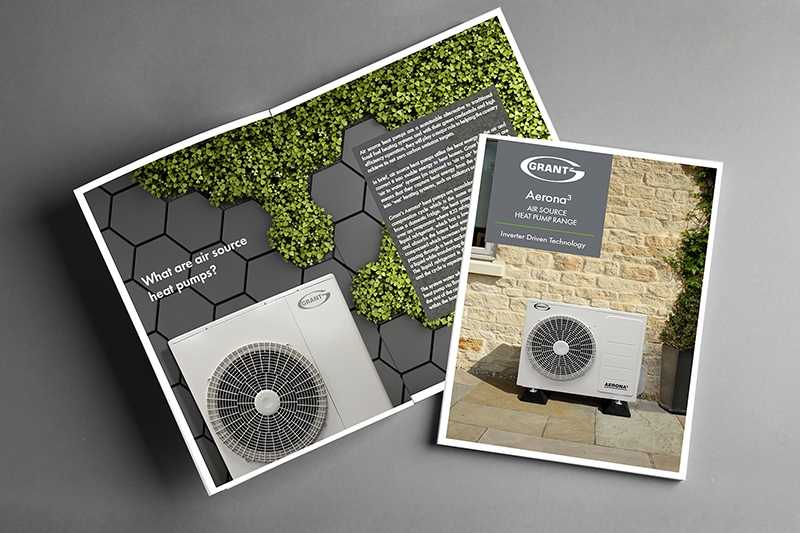 A new brochure for Grant air source heat pumps is now available to help give your customers an insight into the technology – answering their questions and supplying them with the information they need before taking their first steps towards a greener home heating system.
The new Grant Aerona³ Air Source Heat Pump range brochure is designed to provide homeowners with an in-depth introduction to this type of renewable heating. With interest in sustainability growing, more and more consumers are evaluating the measures they can take to reduce their impact on the environment. Many homeowners are assessing their home heating and looking for alternative systems, such as heat pumps, that will fulfil their heating requirements while also lowering their carbon footprint. To aid this research, Grant's latest heat pump brochure strives to equip homeowners with the knowledge they need to make informed decisions about the right heating solutions for their property.
The new brochure covers a breadth of topics including an introduction to how heat pumps work, an overview of the Aerona³ R32 range, explanations about SCOPs, noise levels, and siting heating pumps as well as a handy section all about the dos and don'ts of heat pump installations. The brochure also includes a case study featuring a whole house heating system upgrade which showcases a number of renewable technologies available from Grant.
In line with the green credentials of its products, this latest brochure from Grant is also sustainably printed on 100% recycled paper which is uncoated. Also using a plant-based ink, the brochure is recyclable – making both the print and its contents environmentally friendly.
"Our new Grant Aerona³ Air Source Heat Pump range brochure should be an invaluable resource to help our installers share key product information with their customers," writes Kevin Ellis, Grant UK's Renewables Manager. "Interest and demand for air source heat pumps is rising each day as homeowners are keen to make their mark in reducing the carbon levels within the environment. We hope this brochure will not only answer any unanswered questions consumers may have about heat pumps but it should also serve to highlight the role than a Grant air source heat pump could play in their home."
To download a copy, visit www.grantuk.com/support/manuals-brochures