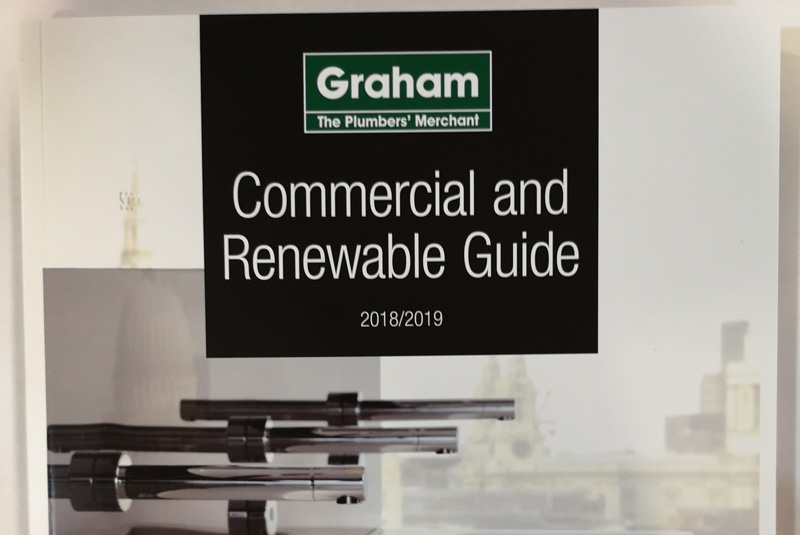 Graham Plumbers' Merchant has launched its new Commercial Product Guide, featuring over 10,000 items from over 90 leading industry brands.
This year it includes two new product ranges – Renewable Technologies and Ventilation – in addition to Graham's commercial Heating, Plumbing and Bathroom ranges.
The guide features new products including heat interface units, air curtains, radiant heaters, drainage solutions, renewable heating solutions and MVHR (mechanical ventilation and heat recovery).
Developed with a sector focus, every product is categorised and colour-coded by the sector it is most relevant to. Sectors covered include Healthcare, Office and Retail, Specialist Care, Hotel and Leisure, Education, Specialist Security as well as Sports and Fitness.
Neal Hampson, Commercial Category Manager at Graham Plumbers' Merchant, commented: "This year, Graham's commercial category has grown yet again to include ventilation systems and also renewable products, following a significant growth in these markets. Our new guide showcases these additional ranges alongside our existing commercial products. We also have specialist Commercial Sales and Estimating Teams in each region within the UK to offer customers support on their commercial projects."
The new brochure is now available in Graham branches and on the Graham Plumbers' Merchant website. To view the new Commercial Product Guide online, click here.