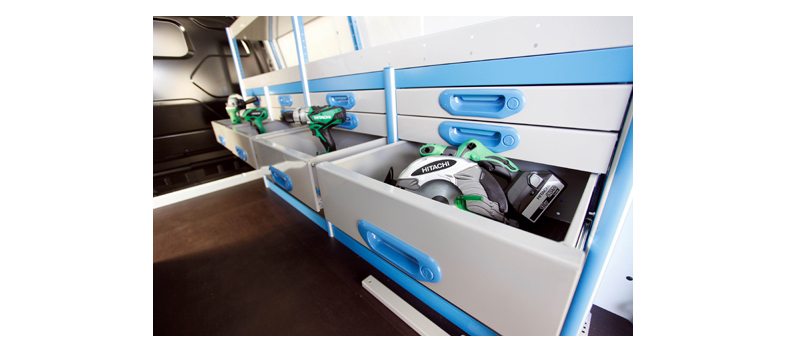 Trade Ready Solutions, the complete package solution first announced in 2014 by Hitachi Capital Commercial Vehicle solutions in partnership with Hitachi Power Tools and Bri-Stor Systems, has been updated to include new van models, racking systems and tools, with the addition of new vehicle signage.
Trade Ready Solutions offers tradespeople the advantageous position of dealing with a single supplier for all their vehicle, tools, racking and signage needs. All funding, maintenance and repair costs of the van and its Trade Ready equipment are covered by one single monthly payment.
Included is a choice of four Hitachi Power Tool packages which are covered by a three year warranty and a free tool refresh after three years, keeping jobs on track. Each pack comes with multiple cross-compatible batteries, with all batteries and tools stored in stackable tool boxes for complete safety and professionalism.
To secure and store these tools, Bri-Stor Systems offers and supplies five exclusive racking packages designed for trade professionals such as carpenters, plumbers, electricians and builders. Packages include angled, multi-shelf and shelf-and-box storage solutions, all of which are designed, produced, installed, tested and warranted by Bri-Stor in the UK. Bri-Stor also ply lines the vehicle with phenolic 9mm non-slip flooring, for industry leading quality, durability and safety.
As the exclusive racking systems are ready-designed and in production, the lead time for trade professionals receiving their fully equipped vehicle is significantly reduced; even with customisation, waiting times are reduced from months to just days.
For 2015, two new van models are available for immediate customisation – the Ford Transit Connect and Transit Custom — but almost all other makes and models are available to order through the offer.
The Trade Ready Solutions offer also now includes vehicle signage and graphics. With fresh, bright graphics professionally applied during the racking installation process, vehicles become mobile adverts for businesses, projecting a professional, trustworthy image with a demonstration of quality.
Trade professionals can opt for a range of optional extras including a tow bar, additional racking systems, light beacons, fire extinguishers and specialist tools, bringing further added value to the 'one-stop-shop' approach.
Jon Lawes, Managing Director at Hitachi Capital Vehicle Solutions, commented: "Partnering with our sister company Hitachi Power Tools and Bri-Stor Systems brings a truly unique offer to the marketplace. The new additions to the Trade Ready Solutions package means trade professionals need only worry about one thing, the job in hand."
Simon Miller, Brand Manager at Hitachi Power Tools, added: "Our tougher, faster and more advanced power tools, combined with market leading service backup and lengthy warranties are an unbeatable offer. Being able to access all of these with a vehicle, racking and graphics for one monthly cost is a fantastic proposition to trade professionals of all disciplines."
David Lythgoe, Sales Manager at Bri-Stor Systems, added: "We work with thousands of fleets and commercial vehicles every year, but this is a truly innovative solution. With Trade Ready Solutions, Bri-Stor is able to install racking systems bespoke to the needs of the customer. Trade professionals are, in-turn, assured of a vehicle that has been prepared to the highest standards in design, build and safety."
More information on vehicles, tools, racking and signage options can be found on the dedicated website, www.tradereadysolutions.co.uk.