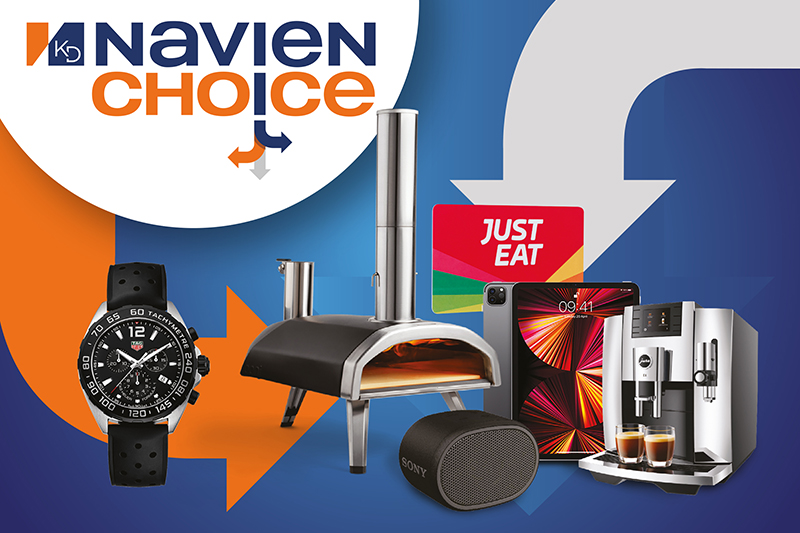 Navien has launched Navien Choice – a new loyalty scheme open to all oil and gas boiler installers. There is a whole catalogue of high quality rewards available, from wireless speakers and pizza ovens through to PlayStation 5 consoles, iPhones and holiday vouchers – as well as barbeques, perfect for the summer months. Installers can sign up at www.navienchoice.com to immediately start benefitting from the scheme.
The loyalty programme allows installers to gain reward points for every NCB-CE combi, NCB-CE system and LCB700 Blue Flame oil boiler they register. Points can then either be 'banked' or redeemed immediately for instant rewards, with participants able to claim a Sony wireless speaker after registering just one NCB combi gas boiler. Equally, installing nine LCB700 oil boilers would acquire enough points for a 43" 4K television or an iPad!
Jason Davies, National Business Manager at Navien, said: "We're delighted to introduce Navien Choice to our customer base. The value oil and gas installers get back from fitting our products is the best available from any boiler manufacturer; we're offering the highest prize value per point in the heating industry! The quality of the rewards available is also a reflection of Navien's outstanding product credentials – especially our industry leading LCB700 Blue Flame oil boiler, which offers optimum levels of energy efficiency."
To learn more about Navien Choice, speak to your local Navien area sales manager or sign up online at www.navienchoice.com
Installers simply need to register their boilers as usual, via the Navien Installer App, by scanning the barcode on the product's serial label. The app is free to download from Google Play or the App Store. Alternatively, they can use traditional methods, such as post and email.