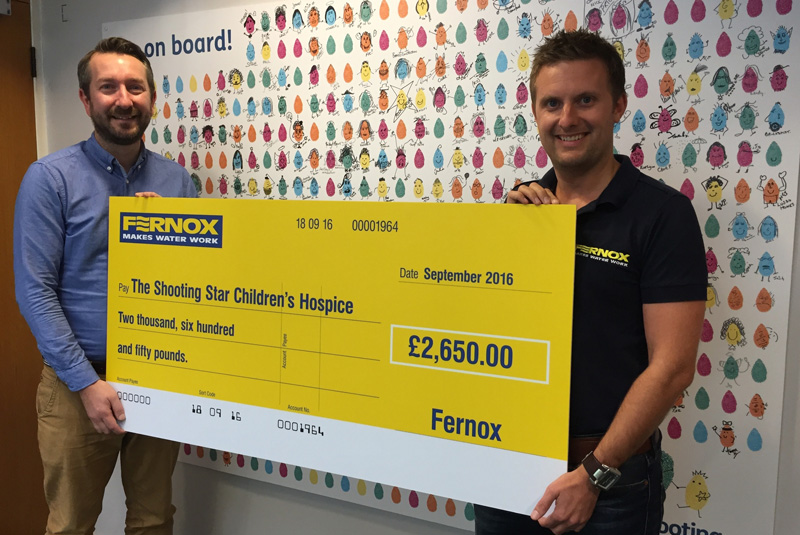 Fernox recently hosted its annual charity golf day at the Whitefield's Golf Club in Rugby, Warwickshire.
Customers, partners and suppliers within the plumbing and heating sector joined Fernox on the golf course for a day of fundraising – raising £5,300 to be shared between Shooting Star Chase and The Realise Foundation. Now in its seventh year, the event brings the total charity contribution – from the golf days alone – to over £68,000.
This year's event saw 75 industry professionals come together to raise vital funds for two worthwhile causes. Shooting Star Chase provides care for children with life-limiting conditions, and their families, in London and Surrey. Also supported by this event was The Realise Foundation – a regeneration charity that creates opportunities for young people to get skilled work, as well as instigating projects to improve local neighbourhoods.
The lively golf event included players trying their luck on the 'Beat the Pro' 16th hole – giving participants the chance to take on Whitefield's resident PGA professional David Mills – while representatives of Rettig scooped the prize for the overall team competition. Industry golfers also enjoyed dinner that night and continued to give generously to the raffle and auction to round off a fantastic day of fundraising.
Andrew Glaister, Strategic Key Accounts Manager at Fernox, commented: "We were delighted with the success of our annual charity golf day. Six years after the first event, we are thrilled to receive the continued support of so many friends and partners of Fernox, who donate their time and money to help raise vital funds for such worthwhile charities."
For more information on Fernox visit: www.fernox.com