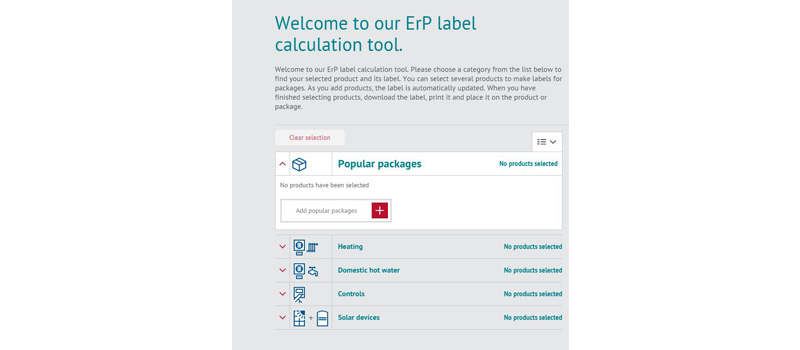 Installers facing the challenge of working within new ErP legislation have a new tool under their belt, thanks to the launch of an energy efficiency calculator specially designed for the water heater market.
The online tool from Heatrae Sadia has been launched as part of support for the new European Union legislation commonly known as the Energy-related Products Directive (or ErP), which came into force on 26 September.
Accessed via the Heatrae Sadia website, the calculator means installers can create the package labels that are now required when installing a package under the Energy Labelling Framework Directive element of the legislation quickly and easily.
Where water heaters are concerned, a package label is required when one or more water heater/s and one or more solar device/s are being installed together.
The legislation includes gas, LPG, oil and electric heaters, dual fuel heaters, solar thermal hot water and dedicated heat pump water heaters, however a package label is only needed where the combined rated heat output of the water heaters is less than 70kW or 500 litres for hot water storage tanks.
Other features include the ability to download product technical fiches and technical parameter sheets, and the option to add the details of a third party product if required.
Alan Clarke, Technical Support Manager at Heatrae Sadia, said:
"We understand that the new requirements brought in under ErP may be a challenge for installers, particularly as we approach the busiest time of year.
"We have created this tool as a solution to that problem, and hope that it helps to smooth the transition for installers as they get to grips with the process."
For more information, visit www.heatraesadia.com.