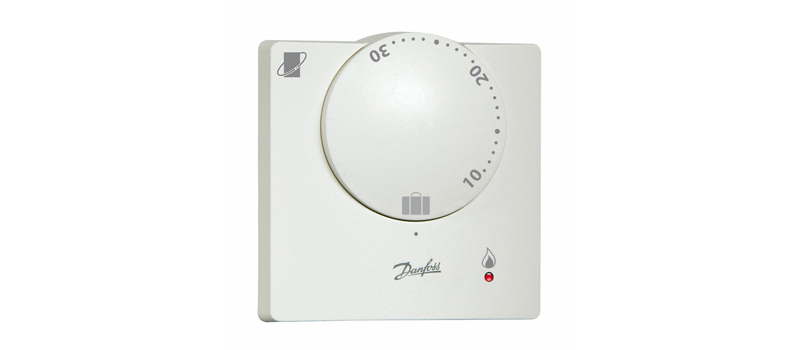 Danfoss is offering heating professionals even more reasons to choose its high efficiency ORT electronic modulating room thermostats.
As well as providing accurate, modulating control of room temperature when combined with OpenTherm boilers, the Danfoss ORT is now included on the PCDB (Product Characteristics Database). Formerly SEDBUK, the PCDB only lists heating products that meet the required seasonal efficiency standards.
As a further benefit, the Danfoss ORT is a Class 5 rated heating control according to the ErP (Energy-related Products) Directive due to come into force on 26th September 2015. The new EU Directive's 1-8 classifications for controls equate to the percentage uplift in system efficiency, with Class 5 products such as the ORT room thermostat adding 3% efficiency to the heating system.
Utilising the industry standard OpenTherm communications protocol for residential heating, the Danfoss ORT room thermostat exchanges data with the boiler it controls as opposed to basic on/off commands. This enables direct modulating control of the boiler for more precise room temperature control and reduced energy consumption.
Tests have shown that energy used to maintain a room at 20oC are significantly less using a modulating OpenTherm thermostat and OpenTherm boiler compared with a conventional electronic thermostat. One of the main reasons for this impressive energy saving is that an OpenTherm boiler with a modulating heating control like the Danfoss ORT spends longer in economic condensing mode by keeping the return temperature as low as prevailing loads permit.
Combining advanced functionality with ease of use, the Danfoss ORT utilises a microprocessor to provide the accurate PI control algorithm and manage the bi-directional data communication with the boiler. The ORT range features a simple setting dial and status LED indicator which displays information on boiler output and alarm indication if a fault occurs within the boiler. For more information, visit www.heating.danfoss.co.uk. To find out more about OpenTherm and the OpenTherm Association, of which Danfoss is a member, go to www.opentherm.eu.