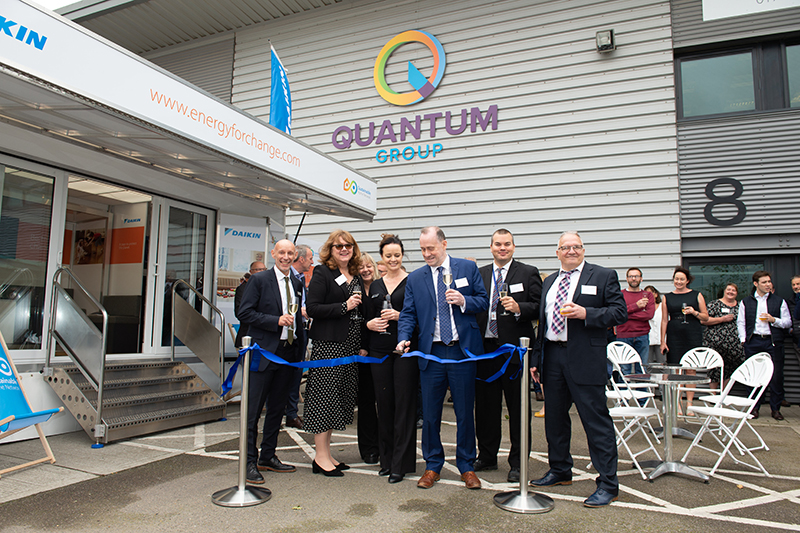 Daikin UK has opened its first Sustainable Home Centre in Greater London, in partnership with The Quantum Group, one of the largest and most experienced air source heat pump installation companies in London and the South East. Representatives from national and local government attended the launch.
The Centre will give homeowners the opportunity to familiarise themselves with Daikin's air source heat pump technology and sit down with an expert to discuss and agree the best solution for their home, before being partnered with a trusted local installer. And as an extra bonus, a tree will be planted for every heat pump sold.
As well as winning projects and sourcing products via the Daikin Sustainable Home Centre, installers will be able to access training and resources to help them diversify into renewable heating solutions – and to ensure the long-term competitiveness of their businesses.
The opening was attended by Lord Callanan, Parliamentary Under Secretary of State at the Department for Business, Energy and Industrial Strategy, and Councillor Robert Benham, Deputy Leader of Havering Council.
Maria Gonella, Finance Director at The Quantum Group, commented: "This is a huge milestone for us, and a real opportunity to put London and the South East at the forefront of the UK's journey to low carbon heating – creating jobs along the way.
"We wouldn't be where we are today without the support that's been available from the government over the past two years. That's why we were incredibly pleased to welcome representatives from both Havering Council and the UK Government to the centre – to show them everything we've achieved in such challenging times for small businesses, and to kickstart our exciting next chapter."
Iain Bevan, Commercial Manager – Heating & Renewables at Daikin UK, added: "It's important that homeowners who want to go green can access expert advice and guidance, helping them find the best solution for their household's heating and hot water needs.
"Being able to explore and discuss heat pump technology in person is vital, as is knowing that it will be installed by a highly-trained professional. We've worked with The Quantum Group for 20 years and so we're delighted that they're opening a Daikin Sustainable Home Centre today. We're confident that together, we can make a significant contribution towards our national net zero targets."
Business Minister Lord Callanan said: "To achieve our net zero ambitions, we need to change the way we heat our homes. Heat pumps are one way we can provide cost effective, low carbon heating to homes so I am delighted to open this Daikin Sustainable Home Centre in Essex.
"As well as upskilling our workforce and supporting the UK's target of installing 600,000 heat pumps a year by 2028, this centre will also enable consumers to see first-hand all the benefits that come with installing a heat pump."
Councillor Robert Benham, Deputy Leader of Havering Council, said: "We are immensely proud of Quantum Group and what they have achieved here. The last year and a half has been incredibly tough for everyone, but businesses like Quantum were hit particularly hard by the lockdowns. Thankfully, the Council was not only able to support them with our discretionary business grant, but also through the Business Innovation Fund, which gave them the ability to adapt their businesses to this new world.
"It's excellent to see a local company take the support on offer and move in such an exciting and worthy new direction. We wish Quantum Group every success."
Installers who join Daikin's Sustainable Home Network can benefit from free, hands-on-tools training at its training centres around the UK, to develop their heat pump installation and commissioning expertise.
Other benefits of joining the network include dedicated technical support, sales ready leads, business support and special offers.