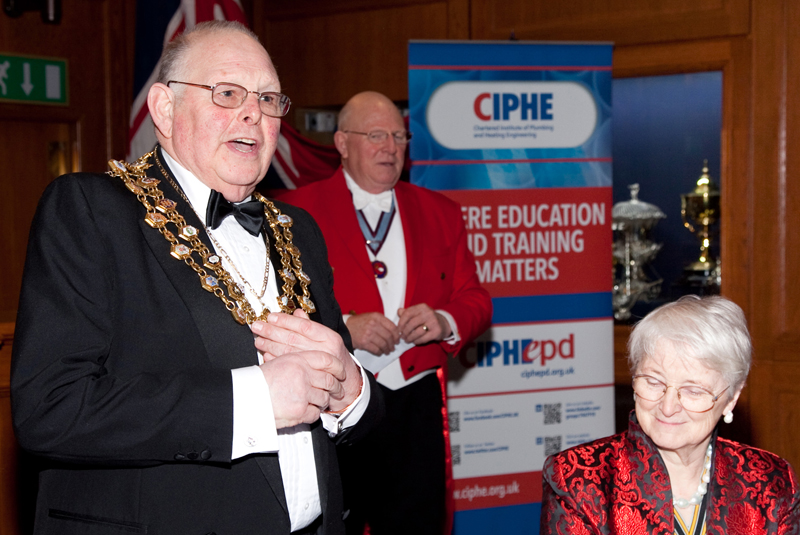 Terry Stephenson, National President of the Chartered Institute of Plumbing and Heating Engineering (CIPHE), welcomed some 50 guests to his special dinner, which took place on the HQS Wellington. The guest speaker was Nick Mead, President of CIBSE.
The dinner was attended by prominent figures from organisations serving the plumbing and heating industry, including the Master of the Worshipful Company of Plumbers, Erica Stary.
Nick Mead spoke about the enormous skills shortage in the industry, suggesting that education and training was the way forward. He said there is still a long way to go, but it is good to see CIPHE looking at the MSc course in Water Engineering, along with the Trailblazer initiative and career pathways.
Terry Stephenson talked about advances in technology, materials and working practices. However, he said we should not lose sight of the fact that recent figures show some 11 million people are deemed vulnerable in relation to clean water and good sanitation.
"As an educational charity we continue to work for the public benefit and this year we are supporting the vulnerable in partnership with other organisations who are contributing to worthwhile and worldwide projects."
He went on to talk about the CIPHE's commitment to education and mentioned that many of the Institute's members, particularly in Hong Kong, aspire to achieving Chartered Engineer status.
"We are indebted to those that support the work we do in promoting professional career progression to all our membership and all those who are proud to be a professional."