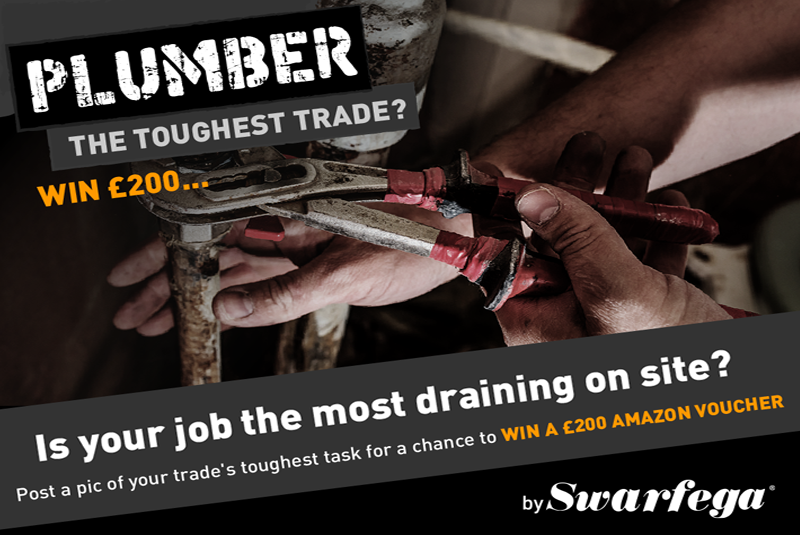 Going back to work in January can be hard with short days, winter weather and months looming ahead before the next Bank Holiday. Warming you up with some friendly competition this January, Swarfega is launching a competition to find the toughest trade in the toughest month of the year.
There's no doubt about it, people working in the trades take on some of the toughest jobs around.  There's nothing more draining than finding and repairing leaking pipes, especially when it is the soil pipe or pipes buried, hidden in walls or disappearing into concrete slabs. Make sure you shout about your trade and send in a picture to Swarfega showing why heating and plumbing is as tough as it gets.
Over the next four weeks Swarfega is challenging entrants to post a picture of themselves or a colleague completing a task on Swarfega's Facebook or Twitter page with #ToughestTrade and a short reason why your trade has the toughest jobs. At the end of January, using its 'Tough-O-Meter', Swarfega will judge each picture and choose the one showing the toughest task. The winner chosen will receive £200 in Amazon vouchers just in time for Valentine's Day and the trade that the winner represents will be crowned Swarfega's Toughest Trade for 2018.
The 'Tough-O-Meter' will be based on the following scale:
0-2: As TOUGH as a cup of tea
3-4: Trainee TOUGH
5-6: Danny Dyer TOUGH
7-8: TOUGH as old boots
9-10: Vinnie Jones TOUGH
The first 50 people to post a tough task picture will receive a pack of TOUGH by Swarfega Shower Gel so get moving quick and post your pictures here:
Swarfega's Facebook Page: www.facebook.com/swarfegaoriginal/
Swarfega's Twitter Page: www.twitter.com/SwarfegaUK
For more details on the competition, visit www.toughbs.com
Background Information
Competition Ts&Cs for inclusion on the ToughBS website
One pack of TOUGH by Shower Gel per entrant for the first 50 participants, multiple entrants by one person will only receive one pack of TOUGH by Swarfega Shower Gel.

Swarfega will contact the shower gel pack recipients by direct message to arrange delivery within 28 days of competition entry.

Entrants can enter as many pictures as they wish.

The winner will be chosen by Swarfega at their discretion.

The winner will be contacted by direct message.