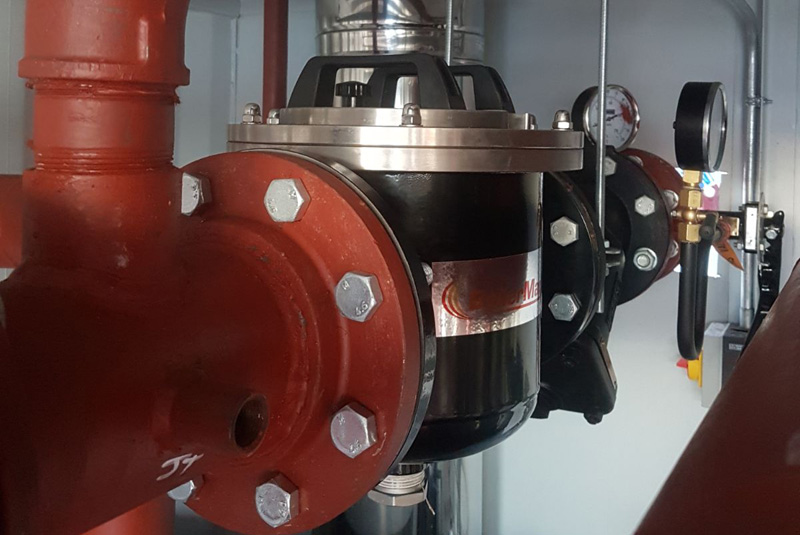 Ideal Heat Solutions has announced that BoilerMag magnetic boiler filters will be fitted as standard to its temporary 500kW boilers. The company recognises the importance of protecting heating systems from black sludge (magnetite) and improving the efficiency of equipment.
Specially designed for commercial and industrial use, BoilerMag magnetic filters are and are recommended for all heating systems to help keep the build-up of black sludge to a minimum, when used in conjunction with an inhibitor. The BoilerMag XT is ideal for large heating systems where industrial heating system protection is required to maintain optimum heating performance.
Sales Director at Ideal Heat Solutions, Jamie Ross Davies, said: "We reviewed many options for protecting the boilers and decided on the BoilerMag. It's easy to install, has a 10 year guarantee, and as a full flow system it filters 100% of the system water on a single pass. Introducing the BoilerMag to our temporary boilers will not only protect and improve the efficiency of our equipment, but can actually improve the efficiency of the heating system we connect onto by removing unwanted debris.
"Ideal Heat Solutions is fully committed to providing a market leading product and this will further strengthen our position. We are, therefore, confident that you won't find a more efficient temporary heating solution."
Steve McAllorum, Sales and Marketing Director at BoilerMag said: "We are delighted that Ideal Heat Solutions has chosen the BoilerMag magnetic filters to protect its boilers. Our commercial and industrial filters provide fantastic protection for central heating systems, preventing the build-up of magnetite and scale, therefore reducing energy bills and increasing boiler life."
At worse, black sludge can cause devastating and costly damage to a boiler, pipework and radiators, resulting in a complete replacement. And at best, it can cause inefficiency and higher energy bills as the sludge prevents water from travelling through the system properly, therefore, radiators do not heat completely – the bottom often stays cool while the top gets hot.
As of the 2nd January, all of the company's new boilers will have a BoilerMag installed to prevent further build-up of magnetite in the central heating system it is serving.