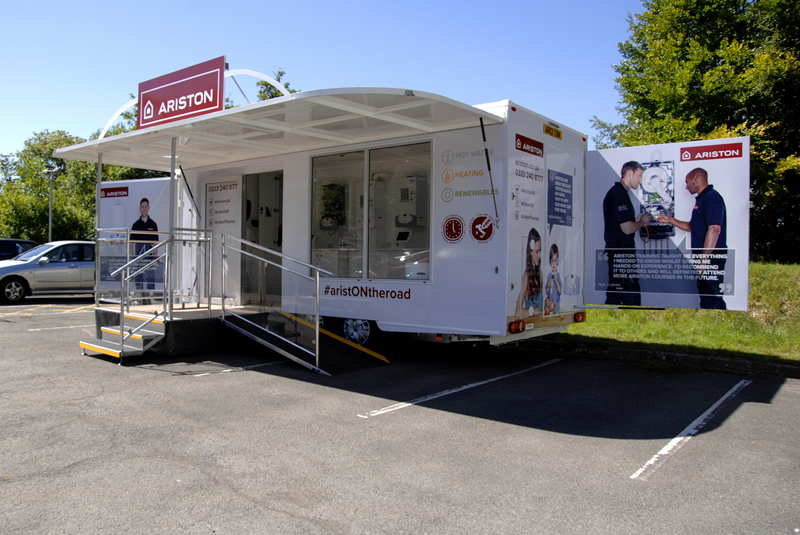 Ariston has unveiled its brand new display and training vehicle (DTV) in time for the heating season. The unit allows the company to take its products out on the road and get closer to customers. The vehicle is emblazoned with Ariston's latest branding and imagery, while it also boasts the personalised number plate 'AR13 TON'.
The DTV is equipped with an array of Ariston's core products, including a fully functional E-Combi evo boiler, complete with a working Ariston NET smart remote control system. This system is also connected to a sink and taps, providing hot running water on-board. Other boilers showcased include a Clas HE evo and an E-System evo.  The vehicle is fully equipped for extensive training on all these products and controls.
The vehicle also houses an Andris Lux under-sink water heating unit, which is displayed alongside a Nuos FS 200 heat pump water heater and an Aquabravo ITI 80 unvented cylinder.
Commenting on the new vehicle, Mustafa Findik, Managing Director at Ariston, said: "The DTV is an incredibly valuable tool, not only for our business but for customers as well. This new model further showcases our commitment to training and dedication to promoting the latest, high efficiency heating technologies. Plus, we can take our products and expertise right into the heart of the field, enabling installers and merchants to experience our offering first hand."
The DTV will be on the road throughout the UK from September 2016, with Ariston posting full details of its routes online at www.ariston.com/uk/Trade/dtv_events, as well as on the company's Facebook and Twitter pages. Installers can also monitor the DTV on social media using #aristONtheroad