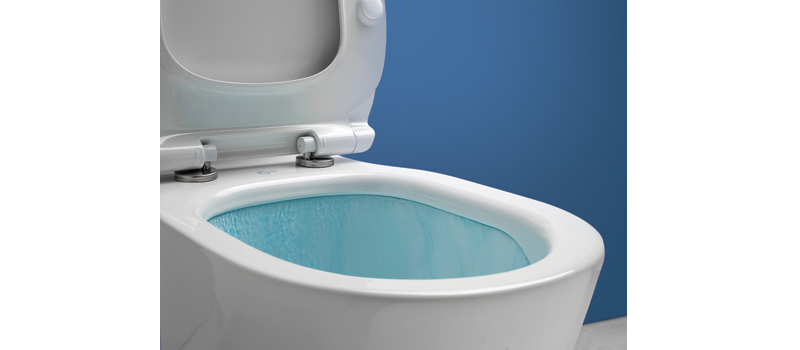 Ideal Standard has incorporated its AquaBlade flush technology into its award-winning Concept collection.
The collection that has been highly commended within the industry will now include the exclusive and patented technology throughout.
The Aquablade flush technology has been heralded as the most significant development since the invention of the flush toilet in the 19th century. It is claimed to offer the most superior flushing performance ever, even at low water volumes.
The AquaBlade system uses an innovative 'Microslot' technology, which is a newly engineered system of channels to create a cascading wall of water from the top of the toilet bowl opening and two powerful plumes to energise the flush action.
Unlike existing flushing systems where flushing water does not cover the entire toilet bowl, the AquaBlade integral technology gives optimum water flow from the top of the bowl on every flush and covers every inch of the ceramic, keeping the toilet bowl immaculately clean.
It is also surprisingly quiet because all the flows are streamlined with the bowl surfaces which reduces turbulence and maximises flushing efficiency.
Anna Burns, Marketing Director, Ideal Standard, said: "At Ideal Standard we refuse to accept that a high-performing flush system can't look beautiful and our brand new AquaBlade flushing technology not only offers best class performance, but outstanding aesthetics – and that's what we love as it embodies everything we stand for. AquaBlade is a truly revolutionary invention, a milestone in the history of toilets and a game-changing innovation that moves our industry forward.
"After a great launch with the Tonic II, it made sense to now offer this innovative technology as part of the Concept collection. The collection already gives you design options, practical solutions, affordability and, of course, quality – so the Aquablade technology is a great addition."
The Ideal Standard AquaBlade flushing technology is available across close-coupled, wall-hung or back-to-wall WCs.
For more information, visit www.ideal-standard.co.uk.