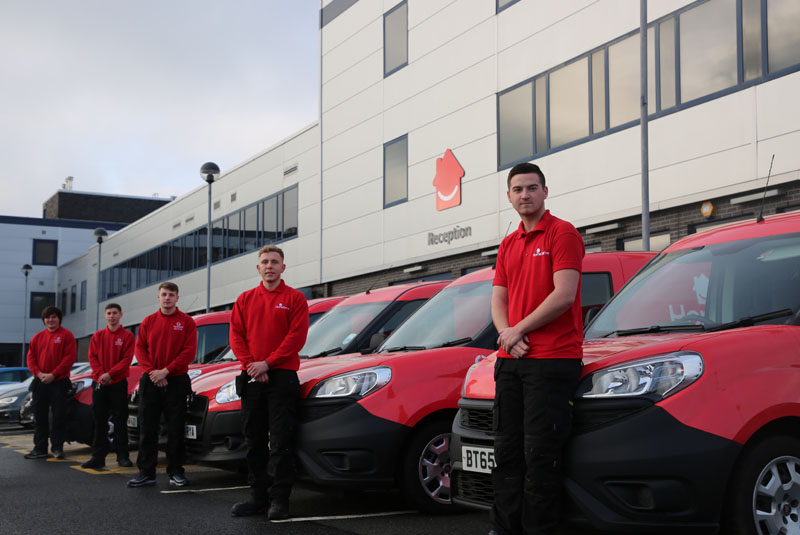 HomeServe has reaffirmed its commitment to developing the very best young engineering talent – and marked National Apprenticeship Week (March 5-9) – after seven apprentices graduated as fully qualified Water Supply Pipe Engineers.
The magnificent seven – Oliver John, Max Harrison, Harry Bloomfield, Joshua Corns, Josh Barfield, Jordan Harris and Tom Johnson – received the keys to their new Fiat vans at HomeServe's Walsall HQ before setting out to tackle their first jobs.
The new apprentices will head out into the field, supporting customers across the West Midlands and beyond.
The apprentices are now qualified plumbers after completing two year plumbing NVQ courses, run in partnership with Walsall College, inside just 14 months. And that means they will be able to complete jobs both inside and outside customers' properties.
Greg Reed, CEO, HomeServe Membership, said: "I'm delighted to welcome our seven newly qualified apprentices to the HomeServe family.
"To complete a two-year course in only 14 months is an incredible achievement and it tells you that these young people are seriously talented and committed. We're all very excited to see what they can do to help our customers' lives run smoothly.
"We're passionate about identifying and developing the very best talent in our industry and that means we are committed to apprentice schemes like this."
The new recruits will join HomeServe's national network of over 1,000 directly employed engineers and will work with their existing HomeServe mentors for the next few weeks as they get to grips with their new roles. Once they gain sufficient motorway driving experience they will also graduate into Mercedes Vito vans.