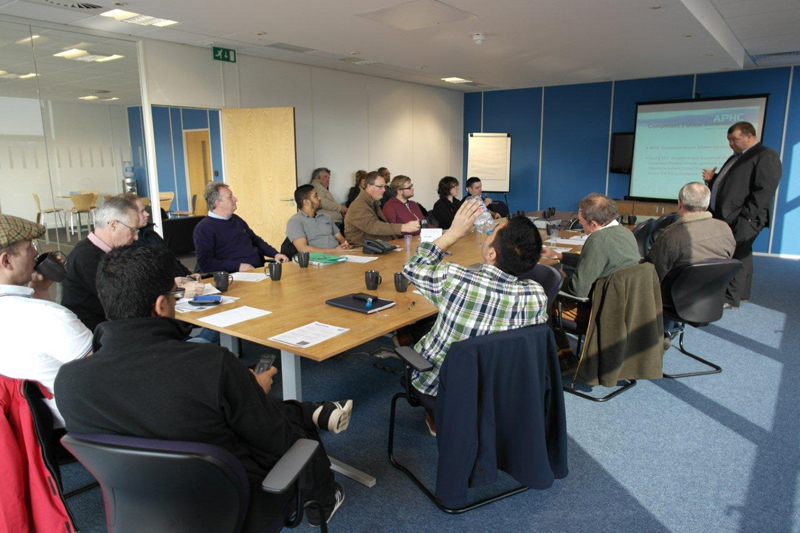 The Association of Plumbing & Heating Contractors (APHC) has published its 2019 programme of one-day training courses.
APHC's 2019 training programme includes one-day courses on Water Regulations, Legionella Cold Water Risk Assessment & Disinfection, Sanitary & Above Ground Drainage and Wet Room Design & Installation. The courses are delivered by highly experienced trainers who have considerable knowledge and expertise with the content of each course.
APHC's CEO John Thompson commented: "The plumbing and heating industry is constantly evolving and investment in training and professional development is vital to not only acquire new skills and enhance existing ones, but to also keep up-to-date with new legislation and new technologies.  Plus, from a commercial point of view learning new skills can help installers to capitalise on growing markets such as the wet room-market which according to AMA Research is forecast to grow by 18% between 2017 to 2021."
The courses are delivered at APHC's centrally located offices in the West Midlands and are open to all plumbing and heating businesses in England and Wales. However, if plumbing and heating businesses have a requirement of eight or more people, then APHC can deliver each course off-site at a suitable local location.
The courses are aimed at experienced practising plumbers who have relevant industry qualifications and experience.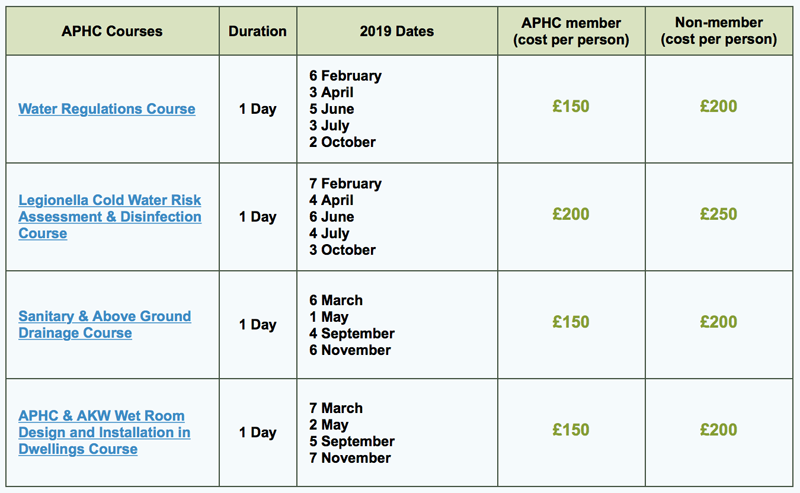 All course costs include the trainer, venue, refreshments and lunch.
Claim a £150 training reward
Through APHC's registered charity, APHC Training Ltd, the association runs a reward scheme where plumbing and heating companies can claim up to £150 towards the cost of a certificated course with a recognised training provider such as APHC, BPEC, City & Guilds and all UKAS approved ACS providers.
APHC has 100 rewards to giveaway in 2019.
In order to receive the reward, companies are required to apply for the reward before completing the course and then once they have completed the course they need to send a copy of the training course invoice along with the successful course completion certificate to APHC – who will then pay for the cost of the course, up to £150, into the employer's business bank account
Further information on the training reward scheme, including APHC's 2019 programme of one-day plumbing courses can be found at www.aphc.co.uk/training_information